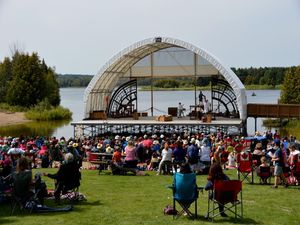 David Nairn, director Daniel Reale and the Credit Valley Conservation Area quickly discovered during their inaugural live performance at the new amphitheatre was to expect the unexpected. Three days prior to the Friday night opening high winds brought down the back curtain of the amphitheatre. Of course, repairing such a large vinyl curtain isn't a quick fix so the production crew was faced with the dilemma of not having a back curtain. They made several adjustments to some of the props such as the massive clock with more than satisfactory results.
The stage on open water did create some interesting and some distracting moments that you wouldn't encounter in the Orangeville Theatre. The pirates were able to arrive by rowboat and enter the front of the stage by climbing up a ladder. Water and little children are always an interesting combination. During the performance many of the children were drawn to the water and were either wandering through it in front of the stage or throwing rocks. I found this to be rather amusing and added to the enjoyment of a family event in the out-of-doors.
During the evening performances at dusk seagulls started to circle above the stage which was quite appropriate for the scene on the pirate ship. In the background kayaks, paddleboards, fishing boats and Canada geese were in constant motion. Not your typical indoor theatre experience but it did allow for me to take some rather interesting photos.
The twenty-one highly talented, enthusiastic performers were definitely worth the price of admission. 1354 confirmed tickets were sold for this show which speaks volumes about our local community support. This proves the historical line in the movie Field of Dreams "if they build it they will come".
I volunteered in the CVC concession booth for all four performances and I quickly became known as the "hotdog man". While barbequing hotdogs I really enjoyed interacting with the CVC staff, Theatre Orangeville volunteers and of course the many people who purchased items at our booth.
Up next for Wayne On The Move is the annual Orangeville Fall Fair and Island Lake Classic 5k and 10k run.
[metaslider id=2517]