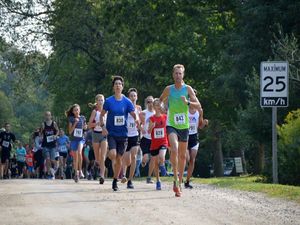 Since 2013, Run Dufferin, has been hosting the Island Lake Labour Day Classic 5k race at Island Lake Conservation Area. In 2015, with the completion of the Vicki Baron Lakeside Trail, a 10k race was added. This year there were 256 registered racers along with 50 kids in the children's "Fun Run". At the conclusion of the race Bob Collin and Margery Cruise announced that this would be their final year to manage Run Dufferin. Jodi McNeill and Norm Nadon will be taking over the Island Lake Classic next fall. I will provide updates about that transition in a future blog.
With Bob's and Margery's announcement, I followed up with some investigating about Run Dufferin. Bob Collin, who was once an avid runner, felt there was a need for a running club in Dufferin County. After playing a major role in the 2010 Vancouver Olympics torch relay in Dufferin he hosted an inaugural running club meeting in the following spring.
As stated on Run Dufferin's website, their goal is to support and promote health, fitness, community trails, cycling and especially running. As a photographer I have been at several of their events and can honestly say that they have been very well supported by our community and will be greatly missed.
Since their conception the group has supported Chase the Tornado (2011), Compass Church Run for Food, Tottenham's Community Week 5k and 2k Run, Caledon 5k Pit Run, Island Lake Classic 5 and 10k Run (2013), Mono on a Bike, Terry Fox Run, Chase the Coyote and the Haunted Hill Run. This is a very impressive list of events that has kept Bob and Margery extremely busy throughout the year.
I would like to congratulate Bob and Margery on their retirement and I, along with many of the members of the running community in Dufferin County, will be following their adventures on Facebook.
[metaslider id=2537]