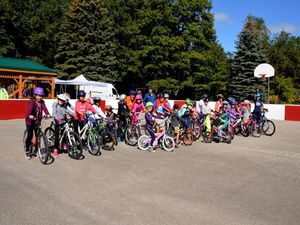 Early Saturday morning I drove out to Mono Centre to take some photos of the annual Mono on a Bike program offered by Parks and Recreation Director Kim Perryman. Upon my arrival at Mono Community Centre I was very impressed with the large number of parents, children, event sponsors and volunteers.
Bob Collin, one of the organizers, gave me a tour and a full explanation of all the planned events. Once each child checked in they received a water bottle, had their bike thoroughly inspected by Cycling Elements followed by a helmet check. Bob then mentioned that anyone needing a bell were given one courtesy of The Epic Bike Ride Orangeville and Run Dufferin. Other swag items included wrist bands, soft-sided coolers and my favourite, Dairy Queen coupons.
Cyclists were either on the cement skating pad being offered tips on cycling safety or they were testing their skills on a very safe bicycle confidence course. As I was taking photos several of the older riders were breezing around the course displaying excellent control of their bikes as they navigated through the cleverly designed course.
The day wrapped up with over 75 young riders along with some of the parents to ride a 7.5 km a route that included sections of road and many trails in the Mono Cliffs Provincial Park. After the ride everyone got to enjoy a barbeque lunch. The weather was perfect so I'm sure Kim Perryman along with her team of volunteers, were very happy with this year's Mono on a Bike.
Next week I'm very excited about sharing my morning experience at Humber College. I was greeted by Joe Andrews and then given a grand tour by Stephanie Maggs. The Mullin Group always has me "On The Move".
[metaslider id=2557]