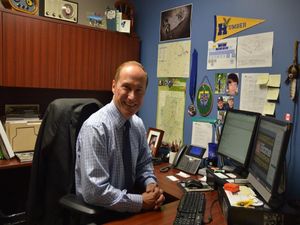 Orangeville has two community colleges and for this week's blog I'm going to focus on Humber Orangeville College. Upon my arrival to the college, which is located in the Alder Street Arena I was greeted by Joe Andrews, Campus Director.
Before discussing the growth and development of Humber College I asked Joe why he likes living in Orangeville. Joe quickly pointed out that Orangeville has everything you want in a community. He firmly believes in Humber College's slogan that "you don't have to go far to get far". Although Orangeville is a small town, it is located close to big cities and major arteries. He likes that Orangeville has something to offer at all stages of your life. There are opportunities in sports for youth and adults and lots of senior residential facilities.
Joe stressed the community aspect of Orangeville. He likes the caring feel of the town, great minor sports programs, excellent health care facilities, tremendous local support for community events from local businesses and there are numerous facilities such as Island Lake Conservation Area for families to enjoy together.
He also mentioned how impressed he is with the Dufferin County Cultural Resource Circle which hosts such events as the First Nations Aboriginal Day.
This is the 10th year celebration for Humber College. The campus has offered 10 different programs ranging from Business Administration, Early Childhood Education, Fitness Health Promotion, General Arts and Science, Home Renovation, Interior Decorating, Police Foundation, Social Service Worker and Design Foundations. Presently there are 200 plus students enrolled in five academic disciplines.
Humber also offers a dual credit program for high school students. The benefits of this program are numerous. There are pamphlets available at the guidance department of the local high schools. In the pamphlet it states that students gain exposure to college programs which allows them to make a more informed decision regarding their post secondary destination. What captured my attention is that tuition, books and transportation are paid for by the School College Work Initiative.
My running buddy Stephanie Maggs gave me a tour of the classrooms and student facilities. Students have the opportunity to use the pool and rinks at designated times. They also have access to the gym facility. The campus is also within walking distance of many coffee shops and eateries.
With the wide variety of programs available combined with great facilities I concur that you really don't have to go far to get far.
[metaslider id=2578]