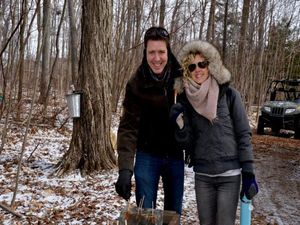 Last week I shared photos of the pails and lines being put up at Island Lake's sugarbush. On Saturday, March 11th the annual Credit Valley Conservation Area's Maple Syrup Festival was up and running unlike the sap. The weather wasn't ideal for enjoying the delicious pancakes that were being prepared by Lavender Blue Catering. Those who did brave the cold temperatures got to enjoy a wide range of fun activities.
The Credit Valley Conservation Area is always trying to make improvements to the festival. Most noticeably was the improved signage especially the very impressive sign at the entrance to the sugarbush.
Wagon rides, face painting, magician, wood carver, ax throwing, scavenger hunt, giant games, archery and a kids' zone were some of the feature attractions that were found in and around the pancake house. By completing the scavenger hunt, you were awarded a bag of jelly beans so young and old were enthusiastically participating.
The sugarbush tour provided lessons on how to identify, tap and measure a maple tree, how our indigenous people discovered maple sugar, how the early settlers produce maple syrup and an explanation of how the modern day evaporator works. Upon leaving the sugarshack visitors were treated to a taste of warm maple syrup and taffy.
One station that deserves special acknowledgement is the "Green Red" show. This station requires a gifted performer who can engage the visitors in some good old Green Red/Red Green duct tape humour. Derek, Dan and Mandy deserve accolades for mastering this station.
Next week I will provide photos of the March 17-19 weekend at the Maple Syrup Festival.
[metaslider id=2073]