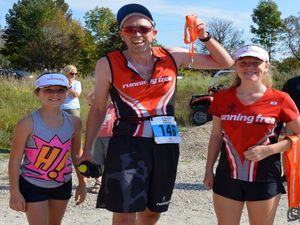 On Saturday, September 23rd Jodi McNeill and Norm Nadon held their sixth annual Chase the Coyote Run at Mono Cliffs Provincial Park. For the first time they added a 50K Ultra race which started at 7:00 am.
Norm wanted me to take photos at the "lookout" which is the highest point in the park. I arrived at my designated location just before 7:00 am. While I waited for the first runners to arrive, I took several photos of the sunrise. It was a clear sky so runners could stop and actually see the CN Tower in the distance.
I must say, it was the most enjoyable and rather entertaining race I have ever photographed. In general, racers love to have their photos taken. What made this race rather interesting was that some racers were actually stopping at the top of the lookout and were taking selfies. I had to chuckle when runners were walking towards the lookout and when they saw me they started to run. I just kept shouting out that I'm not taking videos so there was no need to run for my sake.
I mistakenly mentioned that cardiac hill was the last hill they had to climb. While visiting Jodi at Running Free she quickly pointed out that I was wrong. In fact there were many hills and steps to climb once running past the lookout.
Chase the Coyote Run at the Mono Cliffs Provincial Park included a 50 k ultra, 25 k and 12k run. Jodi McNeill informed me that 295 participants completed the course. Jodi offered the following quote, "Norman and I are thrilled with the turnout for this year's Chase the Coyote, despite the heat, it was a fantastic day. We cannot thank our volunteers, sponsors and racers enough for their enthusiasm and support."
Congratulations to the race winners. It was a great day. I took 766 photos so I was definitely "on the move" at this event.
[metaslider id=2600]