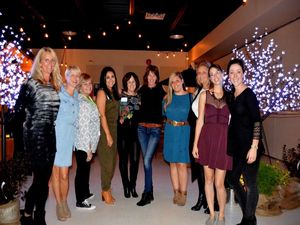 On Saturday, September 30, Wanda and I attended the first annual Dufferin's Ultimate Habitat House Party at the Horizons Event Centre in support of Habitat For Humanity WDG. It was a party to remember. The creativity, organization, master of ceremonies, abundance of food, wide variety of drinks, and large crowd were all factors in making it a memorable evening.
By the numbers, 11 committee members, 8 live auction items, 30 silent auction items, 250 attendees, 2 live bands, and $63 000.00 raised, which all adds up to making home ownership a reality for someone who needs it.
Steve Howard, CEO, Habitat for Humanity WDG states in the program, "As our community comes together to eat, dance and celebrate, we realize that we are all here for the same reason. We all believe in a future where everyone has a safe and decent place to live and we want to see that future come to fruition. Now's our chance. Tonight, we can start to build the future that we've been dreaming of. Every bit of support you provide will stay right here in Dufferin, allowing us to start our journey to build homes, and build community".
Steve's message was well received with outpouring of generosity by those in attendance. Layne, the Auctionista, performed her magic and had the crowd in a frenzy bidding to way beyond the value of each item. Silent auction items went for, in some cases, double to triple their value posted on the bidding sheets. Shortly after the silent auction ended, Layne announced that the evening had greatly surpassed the expectations of the committee and that collectively those in attendance had built a house.
The evening began and concluded with live music. When guests first arrived they got to enjoy their cocktails and hors d'oeuvres in the garage and patio area that were cleverly set up by the House Party committee. Immediately following the live and silent auction, guests were once again mingling throughout the venue enjoying the music, drinks and conversations.
Hard hats off to the committee for hosting such an exceptional evening. I have heard so many positive comments that I'm sure it will be a sell out again next year.
[metaslider id=2622]