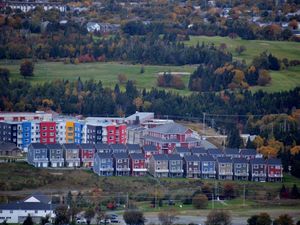 Wanda and I just returned home from our sixth trip to Newfoundland. Our son Nathanael and our daughter-in-law Carly live in Carmanville which is why we travel to "The Rock" so frequently. What always amazes us is the number of people we have met that have family or friends who presently or at one time have lived in or around Orangeville. The purpose of my weekly blogs is to illustrate why Dufferin County is a great place to live. The fact that Newfoundlanders are choosing to live here is an indication that our area is in indeed a great place to live.
One example of meeting people with connections to Orangeville occurred last week while Wanda, Nathanael, Nahla and I were walking the Cobb's Pond trail in Gander. I stopped an older couple to ask them when the trail was upgraded. Conversations with the locals always concludes with "where you from". We did explain that we were from Orangeville which is a small town north of Toronto. The couple we were chatting with responded by telling us that their son moved to Spring Street fifteen years ago. This kind of connection has been the norm when we have been travelling throughout Newfoundland. I could share lots of similar interesting stories about the connections between Orangeville and Newfoundland but it would fill pages upon pages.
Newfoundland is a very beautiful province with friendly people and lots of moose! I strongly encourage everyone to make a trip to "The Rock". I personally would recommend flying and renting a car so you can maximize your time visiting Newfoundland. We did notice lots of places for sale at very reasonable prices. Maybe someday you will become one of the Newfoundland/Orangeville connections.
[metaslider id=2662]