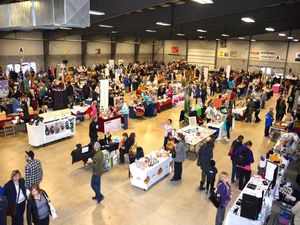 There were a lot of events happening throughout Dufferin County this past weekend. I took my trusted Nikon to two of the local events and I was fortunate enough to take several excellent photos.
The Orangeville Agricultural Centre was hosting their annual fall craft show. The east hall was full of vendors offering everything from delicious butter tarts to hand crafted dolls. When I arrived just before 1:00 pm the parking lot was full and the hall was very crowded with shoppers. I didn't leave empty handed. I just couldn't resist purchasing butter tarts!
My second stop of the day was at Dufferin Garden Centre where they were offering children and adults an opportunity to carve pumpkins inside the comfort of their greenhouse. For everyone's enjoyment hot drinks and snacks were being provided by Communities in Bloom. After carving pumpkins, the brave at heart, could venture into the upper barn which was converted into a rather scary haunted house.
Tuesday night was of course Halloween. Our usually quiet street was busier than normal. I did see some highly creative and amazing costumes. I was also very impressed with how polite the majority of trick or treaters were when I was handing out candy.
November is always a busy month with Remembrance Day, Santa Claus Parade, Headwaters Candy Cane Fair, tractor parade of lights on Broadway in Orangeville and Optimist Club's "Lights in the Park" just to mention a few. I will indeed be kept busy taking photos of all the events and I do look forward to sharing with you my experiences while I'm "on the move" for The Mullin Group.
[metaslider id=2684]