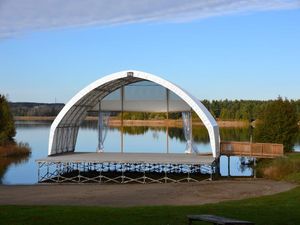 Island Lake Conservation Area has entered its shoulder season. Bill Lidster, Credit Valley Conservation North Zone Operation Manager, explains that shoulder season allows his staff to prepare the park for winter. One such task included the painting and refurbishing of the fishing huts in preparation for the ice fishing season. Crews have also been busy removing grass that has been encroaching onto the south trail, trimming back trees and road repair work.
One very significant project that Bill and his staff have been working on is an extension of the beach parking lot. Beside the parking lot will be the new location for kayak and canoe storage. Bill Lidster explained that a much larger storage facility was needed to meet the ever growing demands. This fall the new area was staked out, a few trees were removed and soon the area will be leveled and a security fence will be put in place.
Another capital project that was addressed this fall was the installation of a metal roof on the park pavilion. Staff also painted the exterior.
Bill Lidster did emphasize during our meeting that the park is still open. Shoreline fishing is still allowed for pike and pan fish. The very popular Vicki Barron Lakeside trail is open year round.
Weather permitting, the plan is to open the park for ice fishing on January 1st. Ice has to be 5 inches thick before the public is allowed access to the lake for walk on fishing. The ice has to reach 7 inches in thickness for ice huts. This winter the park will be offering snowshoe rentals, a skating trail, and annual ice fishing derby. CVC staff and Friends of Island Lake look forward to offering lots to do on Family Day.
Wayne On The Move will be at the Remembrance Day Service which will be featured in next week's blog.
[metaslider id=2706]