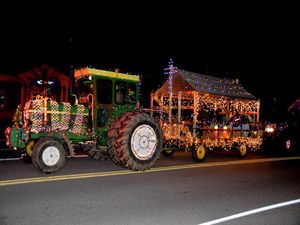 This past weekend was filled with lots to see and do in and around Orangeville. Moonlight Magic attracted large crowds on Friday night. The ever popular Tractor Parade of Lights was one of the many featured attractions. There were numerous other activities which included horse drawn wagon rides, face painting and visits with Santa.
On Saturday, Headwaters Auxiliary hosted their 29th annual Candy Cane Fair. Face painting was one of the most popular activities which required a host of volunteers to keep up with the demand. The little ones and some older children really enjoyed having Christmas trees and candy canes painted on their cheeks.
Another feature attraction is the kids' gift shop. At the gift shop, children could purchase a token for $2.00 and pick out a gift for a family member. Once they had selected a gift or gifts, there were volunteers ready and eager to help with wrapping. Of course, there was the ever popular photo with Santa for only $3.00.
On a very wet Saturday night, the Orangeville Kin Club hosted their annual Santa Claus Parade which began at 5:00 pm. I found it to be rather challenging taking photos because I constantly had to be clearing raindrops off my camera lense. The show must go on regardless of the weather and to everyone's credit the streets were lined with families under the cover of umbrellas.
This past weekend also included many bazaars and Theatre Orangeville's 20th Annual Victorian Christmas which was a tremendous success.
Wayne On the Move will be kept busy from now until Christmas with so much to see and do in Dufferin County. In my case, five generations and counting have called Dufferin their home.
[metaslider id=2747]