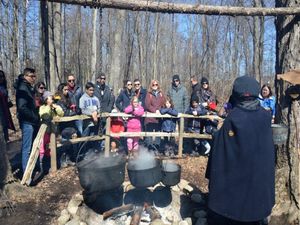 The pancakes at this year's Maple Syrup Festival at Island Lake Conservation Area were being prepared by Lavender Blue Catering. Trust me, the pancakes and sausages were amazing! Using real maple syrup added the perfect touch to a delicious lunch time meal.
With the warm weather on Sunday March 19th , the festival was a beehive of activity. Children and some adults were forming long line ups at the face painting centre which was located by the Outdoor Education Centre. The Outdoor Education Centre was also the first of ten locations for the Canadian Flag hunt. A bag of jellybeans was rewarded to those who successfully found all ten of the mystery locations for this fun filled activity.
A magician was circulating in and around the pancake house. From all reports he was very talented and highly entertaining. Located near the pancake house were several vendors. The one that I gravitated to was "The County Saw" with Scott Rowe with his chainsaw art and sculptures". I was so impressed with the blue heron that Scott Rowe was carving on Sunday that I purchased it for our backyard.
Wood branding was a popular activity. A wooden disc was provided by the Credit Valley Conservation Area or you could cut your own using the traditional bucksaw. There were a variety of iron brands available to decorate the wooden discs that were on display. I have two as a gift from Lynn Picard, the Upper Grand District School Board's Outdoor Education teacher.
Last week I featured the many stations which are located in the sugar bush. I'm happy to report that large crowds were at each station when I was wandering around on Sunday. The taffy tasting was clearly a delicious way to end the sugar bush tour.
I'm always "On the Move" so, until next week, enjoy the arrival of spring.