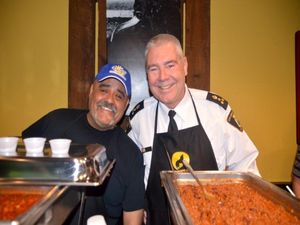 On Saturday, March 25 The Black Wolf Smokehouse in Orangeville hosted the annual Celebrity Chili Cook Off. Gerry Hogenhout and Richard Menard were the event organizers with the proceeds supporting the Orangeville Wolves Hockey Team.
The cost was only $10 for a sampling from all ten challengers. What impressed me the most was the distinct taste of each chili. After sampling all ten I was faced with the difficult task of selecting only one as being the best. I told everyone that there were no losers amongst the group of challengers because I really enjoyed each and every sample.
Police Chief Wayne Kalinski, Sandy Brown, Tammy Schneider, Mike and Tracy Haworth, Andrew Macintosh, Rod West, Murray Wiltshire, Tabitha Wells, Tom Bauer and Kevin Stone were the challengers sharing their individual secret recipes for the general public to enjoy.
The contest ran from 12:00 to 3:00 pm and Tammy Schneider received the "People's Choice Award" and Kevin Stone was the recipient of the "Hogey's Social Club Award". The other eight contestants shouldn't feel disappointed because their participation helped to make the event highly successful and there is always next year!
The Dufferin County Line provided live entertainment which helped to create a most festive atmosphere. Of course, the bar was open if anyone wished to enjoy an ice cold beverage with their chili.
I really enjoyed this event and hope Gerry and Richard continue with it next year.
[metaslider id=2091]