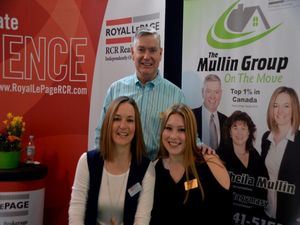 The Orangeville Lions Club hosted another successful Home and Garden Show at the Agricultural Centre this past weekend. Many local businesses were able to showcase their products to the general public just in time for spring renovations and landscape projects. Large crowds were in attendance throughout the entire weekend.
As the Mullin Group photographer, I was very pleased that the show provided a venue for the launching of Mike and Sheila's rebranding. Their new logo is now called, The Mullin Group "On the Move". Sheila, Mike and Cheryl Hagymasy were kept busy handing out their popular green bags, note pads and pens. To Sheila's surprise Mike had arranged for their daughter, Molly, to fly home from University to assist at their booth. It was indeed a very busy weekend for Mike as a vendor and now a new Lion. He experienced for the first time, the need to juggle his schedule for both roles. There were several other Lion members who had the daunting task of looking after their own booth and fulfilling assigned tasks on the Lions duty roster.
My assignment was as the Friday night and Sunday afternoon greeter at the Home and Garden Show . It was great to see so many former students, parents, friends and neighbours. Some of the people I spoke to spent at least two hours visiting booths around the show. There were lots of free draws, popcorn, candy, pens and balloons so people of all ages went home happy.
[metaslider id=2111]