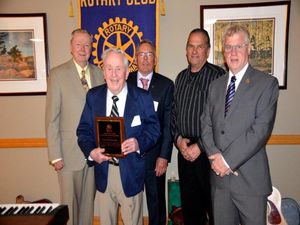 On Tuesday, April 18 at the Orangeville Agricultural Centre, Rotarians past and present, Lions, Optimists, Kinsmen, politicians, friends and families assembled to enjoy an evening of celebration in honour of the Rotary Club of Orangeville's 80th anniversary. After an entertaining welcome by the Town Crier, Andrew Welch, and emcee Doug Harkness, the guests were assigned to one of three buffet tables. The choices were Canadian, Greek and Italian cuisine, which were all wonderfully prepared by Lavender Blue Catering.
After dinner, the Leahy Family known as Rhythmfoot, provided outstanding entertainment. Frank and Chanda Leahy along with their six children, ranging in ages from fourteen to five, played instruments, danced and sang. This highly talented family, were such a joy and treat to watch and hear.
Sylvia Jones MPP and Orangeville Mayor Jeremy Williams brought greetings and plaques which were presented to Club President Fred Murphy and longtime Rotarian Doctor Russell.
Bob Burnside spoke about the history of the Rotary Club of Orangeville. He mentioned some of the fun and interesting activities the club has been involved in. He shared some humorous stories about the antics that went on at meetings. Bob's presentation brought back fond memories of when my dad was a Rotarian.
Every Town Needs a Doc was an inspirational video depicting the work and legacy of Rotarian Doc Gillies. This video was highly appropriate for this event because it clearly illustrated the importance of volunteers in our community.
As tradition would have it District Governor Bill Proctor brought greetings and the keynote speaker was Past District Governor John Stairs who spoke about Rotary's role in eradicating polio.
I would like to extend my personal congratulations to the Anniversary Event Committee. It was indeed a pleasure to represent the Orangeville Lions Club at this truly memorable event.
[metaslider id=2151]