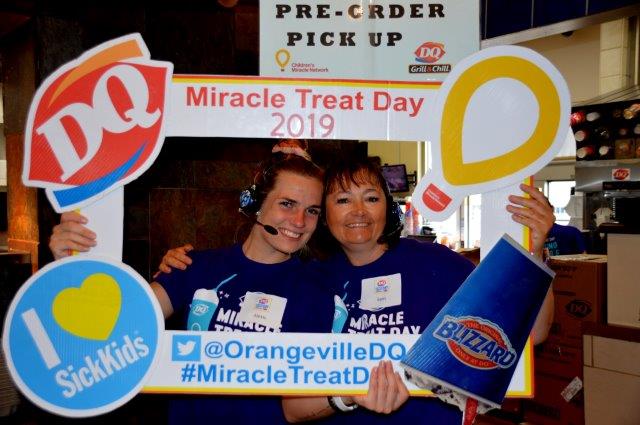 "Wayne on the Move" literally describes how busy my summer has been travelling in and around Dufferin County.  I wanted to share some of the highlights of this summer that I was able to attend.
In 2016, I wrote about my ten favourite restaurants in Dufferin County.  I now want to add the Hockley General Store. Wanda and I took our granddaughter there, bright and early one morning for breakfast. They served farm fresh eggs, homemade bread and jam, seasoned home fries along with several choices of fresh brewed coffee. We enjoyed sitting outside watching the parade of cars and trucks driving by.
To kick off the summer, The Orangeville Lions Club along with myFM 101.5 hosted their first annual "Three on Three Ball Hockey Tournament" at the Lions Sports Park. Eleven teams participated which supported Lions Foundation Canada Guide Dogs. This event was well received by the participants and should continue to gain in popularity.
There have been a number of golf tournaments throughout Dufferin County raising money for a variety of organizations. I participated in the annual Stickman Golf tournament which raises money for Jumpstart's Kids in Sports program.  Also, I participated in the Royal LePage fun tournament which raised money for Family Transition Place. I got to join a fabulous foursome who made many tremendous shots along with some amazing putts.
Summer wouldn't be summer without Orangeville Rotary Club's annual Ribfest. The weekend was extremely hot which I'm sure helped with beer sales.  Once again, there was a great selection of ribbers and many other food vendors on site. Sunday's Kids' Day, which was a new event, was highly successful.
August is host for Dairy Queen's Miracle Treat Day.  I always attend Dairy Queen's Miracle Treat Day for two reasons. I absolutely love ice cream and the event supports Children's Miracle Network Hospitals which is greatly needed. Orangeville's Dairy Queen raised almost $65,000.00!
I also travelled to Grimsby to take photos at the Grimsby Iron Girl competition. I mention this because there are fifty-seven local ladies who are members of the Orangeville Women's Triathlon Club. Forty-seven attended the Iron Girl at Grimsby and many were on the podium!
Last but certainly not least, the annual Great Taste Fashion Gala and Taste of Orangeville just wrapped up last weekend. The models were absolutely fabulous on Friday night showing the large crowd the many fashions available in our local shops. Saturday's Taste of Orangeville was bigger and better with lots of interesting food choices.
It has been a great summer thanks to the many activities that were being offered in and around Orangeville. I have touched upon only a token few. Without a doubt, Dufferin County is a great place to live and grow!
[metaslider id=31037]