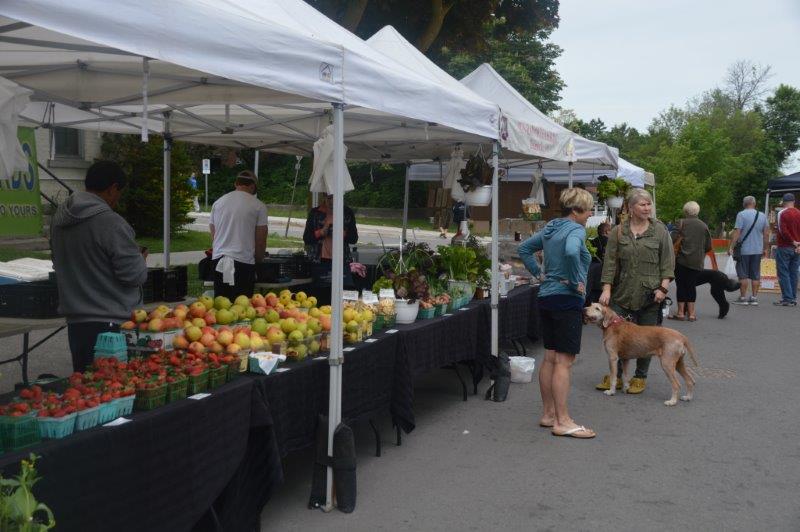 A very popular destination on Saturday mornings is the Orangeville Farmers' Market. Many of the vendors offer a wide selection of imported and local produce which changes as the summer advances. Wanda and I arrived after 11:00 am along with family visiting from Toronto. The market was relatively quiet at that time since most of the regulars know to arrive early to get the best selection.
My favourites are the vendors who are offering fresh bread, tarts, pies, jams and goat cheeses. During this visit we did purchase a variety of breads from Amanda Bakeries. Unfortunately for us she had sold all of her delicious butter tarts.
As we strolled through the market we did look at the variety of flowers, plants, honey, spices, meats, mushrooms, plus we listened to John Greene who was playing his guitar and singing many of our favourite tunes. As we walked, I did stop to chat with many former students and parents. The Market is a great venue to meet and socialize with friends.
The market is also dog friendly. We brought two dogs with us who enjoyed checking out the many other dogs that we encountered during our stroll through the market.
After leaving the market we did walk up Broadway and then along Mill Street checking out the many local stores. We ventured into Fromage on Mill Street. The large selection of cheeses was too tempting so we did purchase a wide variety of cheeses that we enjoyed later in the afternoon in our backyard.
The weekend was alive with numerous activities. The annual Relay for Life was held Friday night at Orangeville District Secondary School's track. Walk in Her Shoes started early on Saturday morning at the Orangeville Farmers' Market which was well attended.
Be sure to check out Celebrate Your Awesome which is a new event being held on Mill Street next Saturday.
[metaslider id="10883″]