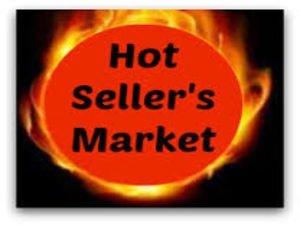 Sheila and Mike Mullin of the Mullin Group are your Orangeville and Area guides when it comes to navigating the local real estate market. Both living and working in the area, this professional team KNOWS when the market is hot when it's not. And guess what? Orangeville is HOT!
Perhaps you're ready to downsize and looking to sell your home. Maybe a job transfer has you on the move or maybe you're just ready for a change. Whatever the reason, NOW is a great time to list a home for sale in the community of Orangeville. Typically, spring is often seen as a good time for the real estate market and this year is no different. In fact, it's better than ever! Despite the February chilly weather and the presence of snow and sleet on the ground, the Dufferin County, Orangeville and area real estate market is so hot right now you can almost watch the snow melting! So – if you want to take advantage of the great real estate conditions and get a jump on the spring rush to marketing your home for sale, contact The Mullin Group today. We will complete an assessment of your home and the surrounding neighbourhood, providing information on listing and sale prices so you can make an informed decision and time your move just right. As your Home Ownership Guides, they are both "buy and sell" agents who will work together as a team, and one on one with you, from listing, to final sale. Partners in business and in life, they will guide you through the process of determining the value of your home (hint: it's skyrocketing right now,) what to do to prepare your home for listing and then they'll list, advertise and sell your home fast for maximum dollar value! They can even help you find another home along the way!
The weather might have you singing "baby it's cold outside" but The Mullin Group is singing "feelin' hot, hot, hot" and they want to get you singing too – singing for joy and singing their praises because they just SOLD your house for an awesome price! If you are looking for an anxiety free, stress free and hassle free real estate experience then contact the Orangeville and area professionals, The Mullin Group, today. We won't rest until you say "WOW!"
The Mullin Group: We'll exceed your expectations! Taking a Team approach to providing individual attention.