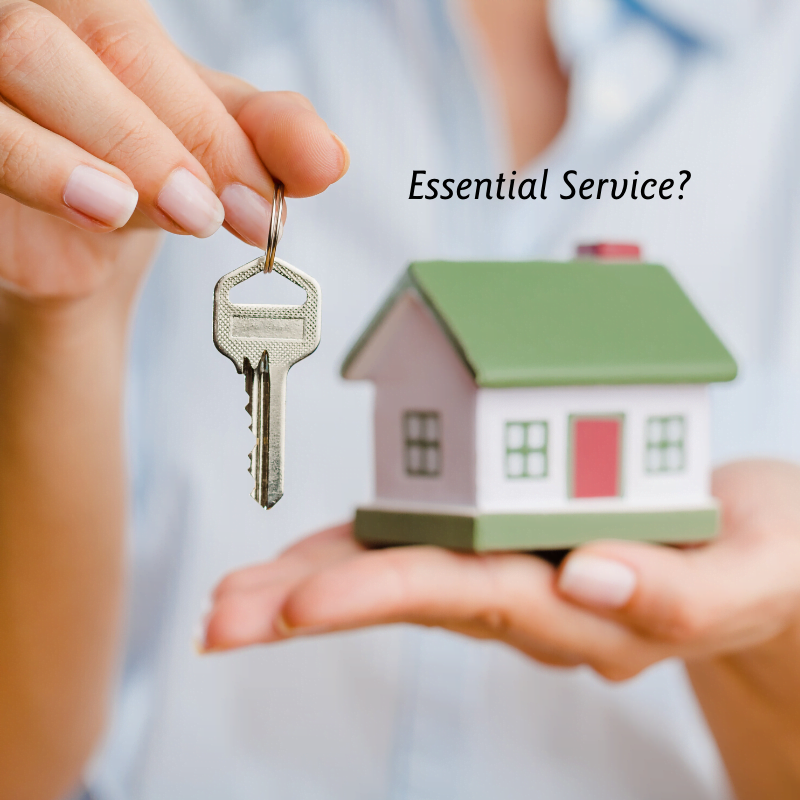 I'm sure you really don't want to hear more about the Covid-19 pandemic, but I think we should give a little insight to what is happening in the Orangeville Real Estate Market. Social Media can be fantastic but it also can be a lynch mob! I think this happens when people don't have all the facts and information and are making assumptions. We know what happens when people assume ….makes an ass out of u and me!
The Ontario Provincial Government has deemed Realtors® as an essential service and related services like home inspectors, movers, land registry and lawyers. People currently have homes sold firm and have bought homes that will be closing in the next few weeks to months. If we were all shut down, these people may be homeless. This is not something we need at this time. As Realtors®, we are to work in a way to facilitate these closings as safely as possible. People may have bought firm prior to the onset of the pandemic and thought because the market was so strong and active that they would easily sell their home. Well, the pandemic has been like putting a lid on an open flame. Things have come to a grinding halt (and so they should). The fact still remains these folks are in a financial bind that they need to sell in order to close on their purchase. Some people still have to relocate for business. I will admit, probably not as much but there are still homes that need to be sold. Real estate is carrying on, but definitely not business as usual.
We are trying to come up with ways to serve our clients that still protects everyone and practices safe social distancing. We are looking to virtual tours of homes. We have implemented NO OPEN HOUSES. However, I did see on Facebook this Saturday morning that a couple of agents apparently did not get the memo that Open Houses are no longer an option! I also see a post this morning that said, if you can meet your spouse on-line, why not buy a house on-line? I thought this was rather funny but somewhat true.
I know that I have friends that have absolutely no intention of moving, but cruise the on-line sites looking at homes. They know the homes better than I do. So that being said, we have the technology to be able to showcase properties from video walk-throughs, to ample good quality photos, to doing a virtual open house on social media. We can answer questions and show you around so to speak.
At this time we are limiting the number of people coming through a home. Our office policy to contact all showing agents and have them sign a Covid-19 Property Showing Health Disclosure Declaration before the appointment gets confirmed. The showing agent MUST answer all questions pertaining to them personally and to the people attending the showing. We are trying to limit the number of people in a showing. We also have set up sanitary stations in the homes and have asked all people coming in to please use hand sanitizer, gloves, please do not touch surfaces and refrain from using the bathrooms. We are only allowing showings on homes that Sellers have also consented to continuing showings. Homes with tenants, we have asked the sellers to please suspend the listing for the time being.
We have received calls from people who are curious as to the value of their homes. We have worked with them to give them a market evaluation by viewing the home virtually. We have tried to come up with resourceful methods to meet everyone's needs while yet keeping everyone's health and safety the paramount concern.
Like I said, I saw some very nasty comments on-line about the "money hungry" Realtors® and I just thought that maybe these people didn't have all the facts. I'm not sure if many of you know that I used to be a registered nurse. I know that we must all do our part to "flatten the curve" or "plank the curve" as Dr. Theresa Tam has said. I do believe our profession is trying its very best as things evolve from day to day. There are a few bad apples out there but there is in any profession. We are all equally as scared as you maybe. We are self-employed and do not know how long this is going to last.
The one thing that we do know, is that real estate has always been the best investment in the history of time. We do know that we will come out the other side and at some point find a new normal. We know that people are always going to need a place to live and we will be here to help you with that when the time is right. We know that your investment in your Orangeville home is still very safe and still one of the best investments ever.
I really do hope this is the biggest crisis we ever face in our life time. In reality we are just being asked to stay home! Let's try to stay connected through calls, texts, emails and video chats. Please reach out if you have any questions. Also let's all try to be a little kinder to each other especially on on-line platforms. Let's all stay safe and get through this crisis together.