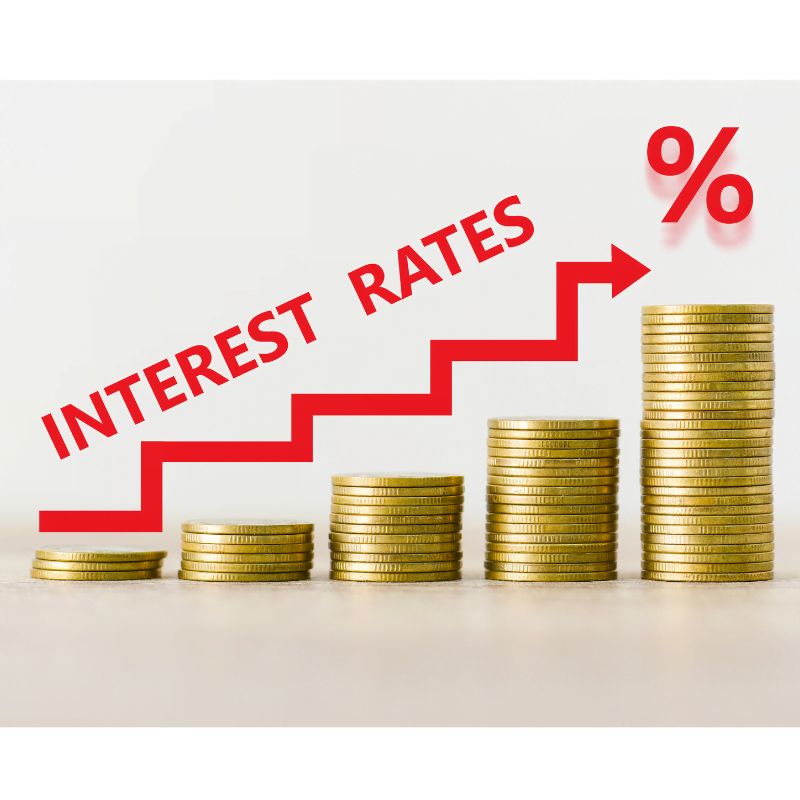 There has certainly been a great deal of discussion about the rising interest rates and homeownership in the last few months.  With the Bank of Canada (BoC) having just increased the last rate hike in early September to 3.25% has left many Canadians wondering what is instore for them.  We have done some research and this is what we have found out about the Rising Interest Rates – and How They May Affect You.
The Bank of Canada has not had such a large increase in rates since 2009.  The Central Bank is bound and determined to curb the inflation rate that was at an all-time high in July this year at 8.1%.  We have not seen an inflation rate this high since the 90's.  The goal of the central bank is to get the inflation rate down below 3% and to do so they needed to increase rates.  We have seen the inflation rate curve in August and we are hopeful the worst is now behind us.
Before we all go into full panic mode, it is important to look at the big picture.  For some people the increases have absolutely no impact on them because statistics indicate that 30% of Canadians are completely debt free! So it is the other 70% that have been very nervous of the impacts of these recent interest rate hikes.
The rate hikes really impact people with mortgages, those with lines of credit attached to their homes and those who are looking to get a mortgage.  For the people who currently have a mortgage, the type of mortgage you have can make a difference.
Mortgages – Fixed & Variable
The homeowners with a fixed rate will continue to pay the same mortgage payment until it is time to renew their mortgage.  One of the largest banks RBC states that most of their fixed mortgages are typically a 5 year fixed rate. So the people that would be towards the end of their current mortgage are the ones that will be concerned about how the rate hikes will impact their payments.
For the homeowners with a variable rate, many have a "fixed payment" amount.  Typically these people are paying more of the principal amount than the interest.  As the borrowing rates increase, their payments end up covering interest only.  When the payments no longer are even enough to cover the interest it triggers the payments to be adjusted.  This is referred to as a "trigger rate".  Many Canadians have been very aware of this.  Our research has shown that on average households have seen an increase of $150 – $200 extra a month on their mortgages.  This can be very significant in the household budget and can leave homeowners feeling very pinched.  The Bank of Canada estimates that a 1/3 of the mortgages in Canada are variable.
Now something to also keep in mind is that back in 2018 the Stress Test was introduced for just this scenario.  The thought was to make people qualify for mortgaging at a higher rate so that they could withstand interest rate hikes.  So as many homeowners do not appreciate the interest rate hikes, they are still able to manage to make the payments but definitely do not have as much disposable income as previously.
The current stress test is definitely making it much more difficult for people trying to qualify right now.  They currently have to qualify at 7% so this is reducing the amount of money they are able to borrow.
What Can You Do?
We do not believe that this is signs of the market going to "crash" as some doom and gloom sayers have been out spewing.  We still have a shortage of homes in Canada.  The number of new home builds in not keeping up with the number of New Canadians immigrating to Canada.  Home prices have adjusted back to a normal sustainable price.  In our area of Orangeville, Caledon, Dufferin and Wellington, we have seen prices settle back to the same prices as of a year ago.  So people have not "lost" money on their investments.
Budgeting
Many families are seriously looking at their household budgets again.  This is a time to be fiscally responsible.  This is a time to sit down with your financial planner to discuss strategies for managing the increasing costs.
Mortgages
If you currently are at the end of your term of your mortgage, this maybe the time to renegotiate with a longer amortization to be able to keep your payments at an affordable amount for your family's lifestyle.   We know everyone wants to get their homes paid as soon as they can, but we recognize that people need to live as well.  There is no medal for being house rich and cash poor.
Thinking Outside the Box
We have a saying in our office; there are No Problems – Only Solutions! Maybe this is the time to think of picking up an extra job.  We know that there is an extreme shortage of employees in all sectors.  Maybe doing a few weekends a month at a part time job will ease some of the financial stresses.
We know that there are many homeowners that their children have grown and moved away or young couples just starting out that have empty rooms in their homes.  What about taking in a renter for a room? This could help augment your monthly budget and also help someone who cannot afford to rent an apartment themselves.  Current rental rates for someone rooming in a home in Orangeville are about $500-$600 per month.  This could be a win-win for people.  I personally remember my parents talking about renting rooms when they bought their first home back in 1967 and interest rates were double digits back then.
We recognize this is a difficult time for some.  We know that people feel very stressed when they are faced with financial insecurity especially when it relates to a place to live. Any questions you may have, we would love to sit down and have a confidential conversation with you over coffee and discuss your options.  We hope that this may have given you some different insight on Rising Interest Rates – How They May Affect You.