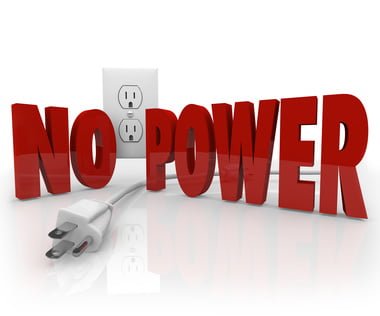 One of the biggest fears that Dufferin rural home owners have living in the country is power failures.  These power outages typically happen during major storms or weather events.  Many potential problems can occur.  Typically when the power goes out, we lose our heat and hydro.
There are some great ways to protect your home in the event of a power outage.  These include portable generators, permanent or fixed generators, solar generators, wind generators and battery back-up systems.
Portable generators are just that, portable.  They run on fuel so when the power goes out the unit needs to be started manually.  Once started you can plug extension cords into the unit and run cords to various appliances that need to be serviced.  The other option is to have a generator plug that feeds back to electric panel.  This eliminates the needs for extension cords.  You simply start the unit outside and it into the generator panel plug, throw a breaker on the fuse panel and you are good to go.  Most important in a storm is the sump pump(s) if applicable to eliminate the potential for basement flooding that can occur.  Other appliances – furnace, fridge, freezer, stove – can also benefit from a generator.  Units need to be vented run outside to eliminate carbon monoxide.  They do need to have the fuel refilled as it is consumed.  And most generators have a maximum capacity of output that means they will only power so many appliances.  The larger the capacity of the generator the more it will cost.
Permanent generators, also known as fixed generators, can be a more complete solution for your homes power needs if you have a larger budget.  Generators can run on gasoline, diesel, natural gas and propane.  When there is a power interruption in the home, these permanent units automatically start up to give you seamless power supply into your homes.  This is the perfect solution if budget is not an issue.  We suggest that you bring in a licensed electrician to insure that you get the correctly sized system and have it professionally installed.
Battery back-up systems are also available to service your home.  The issue with this is the size of system that you need to service the home.  Again it is critical to get a professional in to make sure that you determine the correct sizing of the system to properly service the range of circuits that you wish to protect.
Two other types of battery back-up systems that are also gaining popularity here in Dufferin are solar generated and wind generated systems.  Both of these systems harness naturally occurring elements to generate power which can be stored via an inverter in a battery bank.  But you need to be in an area of wind or sunshine to make these units effective.
Whatever system you choose to consider, remember to have a professional installation technician visit your home prior to purchasing the system to insure you have enough capacity to meet your current and future needs.