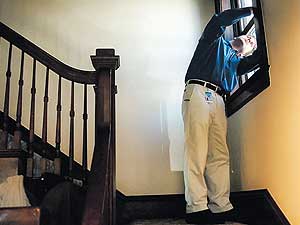 It will not be long before the colours start to change in Orangeville Ontario, and it is time to turn our thoughts to home heating and how to ensure you are maximizing your energy efficiency and savings on your Orangeville home heating bills.
Zone Heating
Basically zone heating means a few small changes. While you're asleep and when you are away from home you can see a savings of up to 6% on your heating bill by turning the thermostat down by 3 degrees Celsius. During winter months while you are at work, out shopping and sleeping this is a great way to save on energy costs.
Next, invest in a thermostat that is programmable and adjust indoor temperatures to match your schedule. Consider investing in a thermostat that allows you to choose which rooms to heat in various areas of your home. When the bedrooms are not being used during the daytime, it's the perfect time to stop heating those rooms. Additionally, you can choose to do this on your own by closing the vents in each room and shutting the doors.
Maximize Air Circulation
One of the biggest mistakes people make is not keeping furniture and curtains from obstructing heating vents. This results in heat going into the furniture and in front of the curtains, and is a major waste of heat. Ensure that you weekly use a vacuum to remove all pet hairs and dust from cold air returns and from warm air registers. Next, use ceiling fans to help circulate and distribute heat throughout your Orangeville home. Ensure that you basement is warm, as the heat from downstairs will rise up into the rest of the home. Lastly, if you have a fireplace that's not in use, make sure you have closed the damper.
Sunshine
Remember, during nice sunny days, that if you leave the curtains open and let the sun in, it is a great way to help heat your Orangeville home and reduce heating costs. Be sure to close them once the sun has set.
More Solutions
Make sure your furnace is running at peak performance by having it inspected yearly by a professional. Look for leaks that can be sealed to ensure no air is escaping and if you have a fireplace, consider the value of installing one that is natural gas.