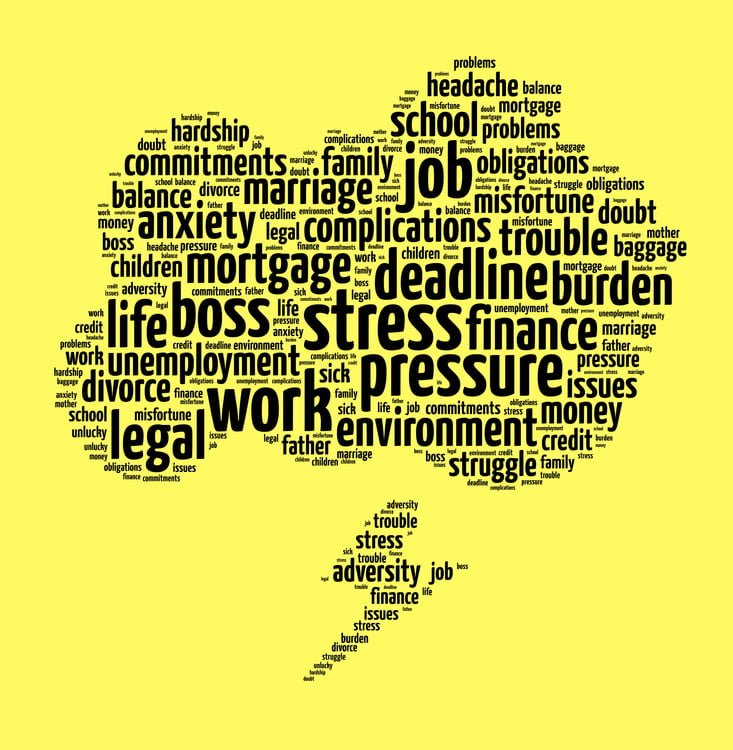 We are now into week 3 of our second big lockdown here in Orangeville.  It is also 4 weeks after Christmas and many credit card bills have started to roll in.  Most of us have no holidays or any booked in the near future.  We are all feeling some kind of 'stress' from the current Covid-19 pandemic.  There is absolutely no one who has not been affected by the current situation. Now more than ever we need to take care of ourselves.  Self-care is not selfish but mandatory.  People's well-being and mental health are being challenged every day especially as we navigate through this Covid pandemic.
This obviously has been a year like no other.  So many people are missing seeing family and friends.  Winter typically makes people feel alone and isolated, especially our senior population.  School aged kids have been doing online learning which adds to the feelings of being alone and isolated.  We are social beings.  Even our anti-social people like to at least see people.  They may not want to interact, but certainly do not want to be totally isolated.  Think about it, solitary confinement is a punishment/torture for people in jails!
Worry and stress has crept into everyone's life! There is worry about jobs, paying bills, getting sick, getting someone else sick, when will this ever get better and so many other worries we can't even imagine.  I know that my 23 year old daughter has had shingles this year due to stress.  Our family doctor has said someone should do a thesis paper on the relationship of young people developing shingles this year and Covid stress.  He has seen a huge increase in the number of cases in young people over the past 12 months.
Stress is manifesting itself in so many ways.  People can stress eat; we have all heard of the Covid-19 weight gain.  For others, stress can cause them to lose their appetites and lose weight (not necessarily in a healthy way).  Some have constant brain fog and cannot make decisions.  Stress can affect sleep patterns.  Tossing and turning all night long does not help you feel rejuvenated in the morning.  For some stress can come out in a physical manner.  Some people experience headaches, stomach issues and rashes.  Some may have noticed an increase in alcohol consumption, increase in smoking and use of other substances.  All of these are fine when used in moderation but I think many of us can say for sure the LCBO has certainly not seen a decline in sales over the last year!
I feel like we are all like ducks.  We look like we are gliding along the top of the water nice and smooth but in reality we are paddling for our lives under the surface.  I notice that I am a little more short tempered than usual (everyone can pray for Mike!) I am kidding but there has definitely been an increase in the number of abusive situations as people are spending more time at home and do not have the workplace and school to escape to for a little reprieve.
We can't fix things that we are not first aware of.  Take an objective look at yourself.  Are you maybe experiencing some stress that you didn't realize was there? Now let's look at ways to manage the stress.
Some obvious tips for dealing with stress would be healthy eating, exercise, getting enough quality sleep but some not-so-obvious ideas could be connecting with others, find ways to unwind and even meditation.  Connecting with others will definitely be different, but picking up the telephone and actually calling someone is an idea, facetime or Zoom calls or even standing outside at least 6' back on a nice day and chatting with a neighbour.  Ideas for unwinding are different for everyone but maybe writing in a journal and expressing your feelings.  I've seen where people have taking up new hobbies like woodworking, knitting or colouring.  Meditation can help with physically slow your breathing and releasing the tension built-up in our bodies.
What I am referring to is for mild anxiety.  There are many who are experiencing much higher levels of anxiety and need to seek professional help.  Do not be afraid to reach out to family, friends, doctors or any of the fantastic resources we have available here in Orangeville.  We are meant to live happy lives.  Sometimes we need a little help to achieve this. Mental health is every bit as important as any other health issue you would see a doctor or specialist for.
Before writing this blog I spoke with Sonia McDonald, certified Child & Youth Counsellor of the Edify Centre right here in Orangeville.  She explained to me all that the Centre has to offer; workshops, counselling service, training and also a physical focus program that centres on boxing.  She also shared with me a list of telephone numbers of crisis and safety resources across Canada and right here in our Dufferin area as well as a list of helpful Apps/website for mental health.  Sonia told me that because they are deemed an essential service, they are still working with people.  Some they are working remotely with and some are still coming in for in-person visits.  After visiting their website at www.edifycentre.ca I found some free downloadable resources you can check out here.   She explained that anyone coming to the centre in crisis will never be turned away.  They will make sure to get the client in-connection with the right people to help.
This is just one place in Orangeville that can help.  There are so many others in the community including DCAFS, CMHA Peel Dufferin, Family Transition Place and Caledon Dufferin Victim Services and of course the Edify Centre.
Mental health is a real concern all the time but more so right now.  We all need to learn to practise self-care before we can help anyone else.  We live in an awesome community.  I see the offers to help over and over in our community.  If you or someone you know is struggling please do not suffer in silence, reach out to someone.  I am no mental health expert, but I certainly know how to connect people and I am always here to help.