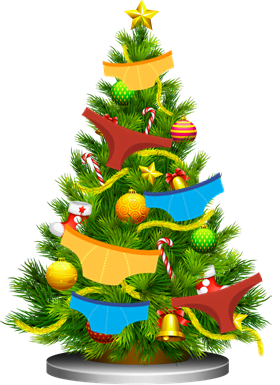 Something most people find under the Christmas Tree every year is …UNDERWEAR! Kids usually do not get too excited but as we get older and soon realize how costly these little babies can be, we tend to get a little more excited when we receive the gift of skivvies.  Underwear can really affect our mood and attitude.  Think about the pair of underwear you keep in the bottom of your underwear drawer as your "last resort" underwear.  We ALL have a pair or two of these.  They are uncomfortable, or the elastic is gone or they creep up places they are not supposed to, but we keep them in case we have nothing else clean.  Think of slipping on a fresh new pair of undies and how you feel you can slay the day.  Not everyone in our community will necessarily receive a pair or two of tighty whities this year.  So this is how the Tighty Whitie Christmas fundraiser was born.  We want to bring UNDERAWARENESS to one of the most under donated and most needed items of clothing – UNDERWEAR!  No one should be deprived of the simple daily necessity of clean comfortable underwear that many of us take for granted.
I was lucky enough to speak with Sarah from MyFm who pitched the idea to her GM.  And voila we have a campaign to collect new packaged/or with tags underwear for all over this holiday season.  We know the community of Orangeville and area really rises to the challenge to help those less fortunate in our community.
Years ago I toured Choices Youth Shelter here in Orangeville and at the time, the director explained to me one of the most needed donation items was new packaged underwear for both males and females.  She explained that they get many gently used clothing donations but due to obvious hygienic reasons they cannot accept used underwear.  It made me think about the number of people who may come through their doors and would all be in need of fresh, clean underwear.  Choices Youth Shelter always has a "wish list" and underwear are always on the top of the list.  I have often thought of this as I waited for cyber Monday to order my son's favourite underwear online at an affordable price for Christmas.  He only like's a certain kind and cut and if I didn't get him new ones every year at Christmas, he would wear them until they were completely disintegrated!  So this year when I order Shane his ETHIKA underwear on Cyber Monday, I will just add a few extra pairs in my cart to help out some of the kids at Choices.
We are also collecting undies for women and children that come to Family Transition Place.  I spoke with Heather Hayes at the Orangeville Food Bank to let her know what we were planning and it just so happens they are also organizing a little gift bag for some of the men that use the Food Bank, so she would greatly appreciate men's underwear to put in their Christmas Package.
My thoughts are while you are out shopping over the next few weeks or online finding incredible deals like cyber Monday, that you pick up an extra pair or two and drop off at one of the many locations around town.  So far we know there will be Christmas Trees to drop off your undies at:
21 Main in Grand Valley

And of course our Mullin Group office at 685 Riddell Road, Unit 103 Orangeville
We hope you can show you care with….UNDERWEAR!!!