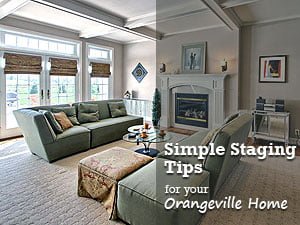 Staging doesn't have to be complicated or difficult. There are only a few rules to follow to make your home look brighter, more inviting, and ready to put on the Orangeville real estate market or for company. Follow these great tips of ours to make your home shine!
Remove the Clutter — Remove all unnecessary items such as mail, magazines, newspapers, etc. Keep all your surfaces clutter free and clean.
Brighten Areas with Light — Allow natural light into your Orangeville home by opening the blinds, and using light coloured drapery. Make sure all the lights and bulbs in your home are working and provide plenty of light, if not, you may want to up the wattage of your light bulbs.
Change up the Junk Room — We all have that room that we use to hide our "junk". It could be a spare bedroom or a rarely used Den. Repurpose these rooms with new paint and furniture. Instead of a junk room, create a home office, a craft room or set it up as a spare bedroom.
Bring a Touch of Nature Inside — Take a hint from nature and select neutral paint colours and use fresh cut flowers and plants to accent your home.
Group in Three's — Odd numbers are always preferable when grouping your knic knacs and accessories. Group your accessories by shape, colour or texture – but always in threes. It is more appealing to the eye to group accessories in threes.
The Inexpensive Face Lift — New kitchens and bathrooms will help sell your Orangeville home, however, if you cannot afford new cabinets, try to get new cabinet doors and drawer fronts instead. Alternatively, you can paint your cabinet doors or replace dated countertops with new ones, affordably. Paint rooms in neutral and soothing colours.
Add Some Colour — Paint rooms in neutral colours such as, warm tans, honeys and soft blue-greens. Use the same paint colour in adjacent rooms in order to make the space appear larger. Add bolder colours in your fabrics. Bold coloured throw pillows, throw blankets, drapery etc. will liven up the space but will not appear permanent. Neutral wall colours appeal to buyers and allow them to picture themselves living in your home without re-painting/renovating.
Furniture Layout — You want your living spaces to appear larger than they are but allow traffic flow. Use your critical eye and determine the best way to create this. Depending on your room, you may want to float the furniture from your walls or you may want to keep it close to the walls. Create conversation areas where chairs and sofas face each other.
Clean — Take the time to do a thorough cleaning of your entire Orangeville home. Make all your surfaces gleam.
Accessorize — Once you have cleaned, painted and freshened your home, it's time to add accessories. Some of the best accessories to use are fresh flowers in pretty vases, candles, scented soaps, fresh clean towels, new throw pillows, area rugs, mirrors, baskets and small knic knacs in groupings.
Put your Home on the Orangeville Real Estate Market
Whether you are putting your home on the Orangeville real estate market or getting it ready for family, these staging ideas can transform your slightly dated home into a home that feels brand new and ready to sell.