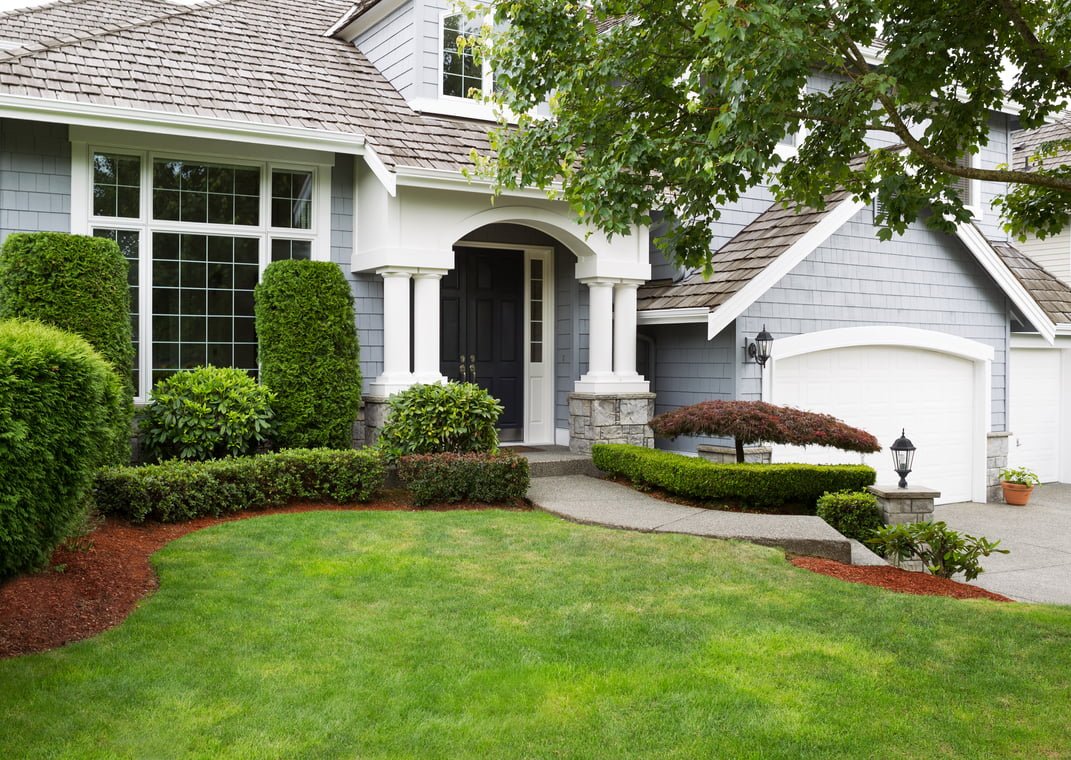 We look forward to Spring every year but this year wins hands down.  The anticipation of getting outside and into nature always hits us by January or February, this past year we may have been eager for its arrival back in October.  Many of us have seen enough of our own 4 walls, in fact, many of you may have painted or even knocked some of those walls down but now that you can get outside, it's time to focus on the yard.
It's true about what they say, you never get a second chance to make a first impression.  We here at the Mullin Group have walked up a lot of front walkways in Dufferin County and one thing is for sure, if the outside isn't well kept, the assumption is that neither is the inside.  I know what you're thinking, don't judge a book by its cover but all I can say is that often times, that is the case.
You don't have to spend tens of thousands of dollars in fact, sometimes less is best.  A nicely paved driveway and a simple patio stone walkway that is well kept is far more appealing than an interlock driveway that hasn't been maintained with sunken or missing stones that is full of weeds.
Landscaping is the same.  We all admire the beautiful gardens of some of our Orangeville neighbours; but, let's be honest, those people are either passionate gardeners who are often retirees or someone who has a local landscaping company taking care of the yard.  There are a number of ways to have beautiful curb appeal without spending a fortune.  Here are a couple of ideas;
Paint and Caulking
Maintain and paint your windows and doors, including your garage door.  Paint is a great way to express your personality; but, keep in mind, it's on the outside, your neighbours have to look at too.  A splash of colour on your front door is fun but don't go overboard.  Stay on top of the caulking and painting.  Not only will doing that improve the aesthetic of your home, your windows and doors will last longer which in the long run will save you money.
Check out…
Eavestroughs
Inspect your eavestroughs and downspouts after the snow is gone.  Ice can dam up and cause damage, downspouts can fall off, make sure to reconnect them and ensure they have extensions directing the water away from your foundation.  This is something that is so important and so simple to do yet I can tell you that almost every building inspection that I have attended it has been recommended.  This is a preventive measure for your foundation and your wallet.  If water gets in, money will come out – LOL
Check out…
Gardens
If your time and your budget won't allow for an elaborate garden, consider planters or urns.  One urn with a burst of colour is far more appealing than a garden full of weeds.  It's more affordable to purchase and far easier to maintain.  The great thing about an urn is that you can change it with the seasons.  This is fool proof even if you don't have a green thumb just visit one of the many great garden centres we have.
Check out…
Alton Greenhouses
These are just a few ideas to help you get started on sprucing up your home.  Now that Spring has sprung we can get outside, enjoy the weather and work our magic to make our yards everything they can be.