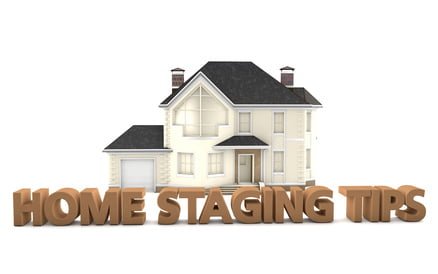 You have made the decision to list your home, so what's next?  This is when all the work begins.  It's time to prep your home to go on the market and get the most out of your home.  Staging along with quality photographs are a key component to help selling your home.  So let's get started!
Let's start with the outside of your home.  Making sure your home has plenty of curb appeal is extremely important to drawing those buyers in.  Here are a few inexpensive ways to freshen up the curb appeal of your home.
Update the front entry of your home with a fresh coat of paint on the front door and mailbox and update the house numbers.
Using a power washer, clean the concrete and driveway to remove any built up grime.
Freshen up the landscaped areas with fresh mulch and seasonal flowers.
Trim any dead or overgrown bushes or trees.
Cut the grass on a regular basis.
Now that we have grabbed the buyer's attention, it's time to make the inside match the outside.  There are five principles to getting your home market ready.  Declutter, organize, deep-clean, depersonalize and staging.
Let's start with decluttering.  For almost everyone, this is one of the toughest things to do.  Having to part with things that you may have had for a really long time can be difficult.  Rule of thumb, if you haven't used it in the last 6 months, you probably don't need it.  Donating unneeded items to charity or having a garage sale are just a couple of ways to help lighten the load when moving.  For those precious items which are too hard to part with, renting a storage unit to keep them safe until moving day may be the best option.
Next is organizing.  For those items that are still in your home, they need to be placed in an organized fashion in drawers or closets.  Leaving stuff on counters can lead buyers to think that there is not enough storage space.
Once you have decluttered and organized, it's time for a good deep-cleaning.  This means moving furniture and getting into those forgotten nooks and crannies.  If time is of the essence, hiring a professional cleaner to do the job may be the best solution.
Finally, depersonalize.  It's time to put family photos and personal décor away.  You want buyers to walk in your home and picture what it would be like for their family to live there not how your family is living there now.
After you have completed the above mentioned steps, it's time for the professional stager to step in. According to an article; Sellers: The Benefits of Staging Your Home, "the goal of staging is to speak to everyone else in a compelling, positive way".  However, some homeowners are reluctant to allow stagers to come into their home because they feel that the stager is critiquing their choice of décor.  The truth is Stagers know what buyers are looking for.  They are a third party that can objectively make decisions about décor that would be best suited to help sell your home without the emotional attachment.
Now that your home market ready, it's time for pictures!
Let's be honest, most buyers shop online for a home before physically going to look at it.  Statistics show that homes viewed online with pictures done by professional photographers get more views than those that don't.  Experienced real estate photographers know the best angles and shots to take to best represent your home and will take the time to edit and produce better quality images than those you may take with a cell phone.  According to the Center for Realtor Development, 32% of homes sell fast when using a professional photographer but yet only 35% of realtors use professional photographers according to Real estate agents who outsource listing photos earn twice as much as others, inman.com .
Just remember as the saying goes, "You only have one chance to make a first impression."   As a seller you want to make sure that your home is staged and professionally photographed to make the best first impression you can on potential buyers.
No matter what stage of the process you are at, whether you are just thinking about listing in the future or you have started decluttering, we would be more than happy to help guide you along the way. We work with professional stagers and photographers to make sure you are getting the most out of your home.