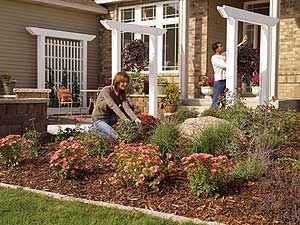 If you are considering putting your home on the Orangeville real estate market, realize that it will take some preparation to get your property up to show quality. Experience is proving that when a home is staged, it can sell for many thousands of dollars more than a home that is not staged. Also, staging helps in all types of markets (slow or fast). When there are a glut of homes for sale in Orangeville, what they call a buyer's market, the home that's staged is more noticeable to buyers, and the price tends not to be low-balled the same as a house that doesn't look as good. Alternatively, in what they call a seller's market, when there are few homes for sale and real estate is in high demand, staged homes again stand out, often attracting numerous offers. In this way, the price can get driven up as buyers compete with each other for the home. Either way, the homeowner who took the time to stage comes out the winner.
Home staging can mean different things. Everything from just de-cluttering a home, or a rearrangement of furniture, up to making minor repairs, or even completely emptying the house and renting new furniture, are all considered efforts to stage a home. It appears that the more effort, and money, one puts into staging the home, the more they are repaid for their efforts when the home sells. Not only that, staged homes tend to sell much more quickly than as-is homes.
There are a few key elements to home staging that tend to be universal. First and foremost, getting rid of excess furniture and knick knacks seems to be key. A cluttered house becomes invisible to a viewer, blanketed under the accoutrements of someone else's life. If necessary, rent storage for all your extra stuff. If you have a storage room, empty it, or set it up to look like an office or weight room, to highlight features you don't use, but someone else might love. Sometimes all that's needed is an objective rearranging of your things to create more space and order.
Another key area is repairs. Don't launch into major renovations, but do fix up really obvious minor flaws, especially around the front door. First impressions are key. Keep in mind that people viewing your home will likely open cupboards and closets. Repair squeaks so they are not a noticeable problem. Since doorways have a tendency to get worn, consider new paint.
If you're planning to sell your home, you might want to do a little research online to help with your staging ideas, or even look into hiring a professional from the Orangeville area. No doubt you'll be glad you did.