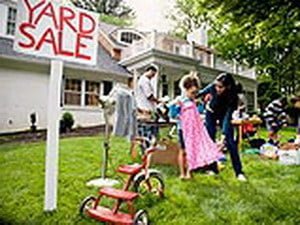 Are you thinking of having a Spring Yard or Garage Sale? It is a great way to profit after performing a good spring cleaning of your Orangeville home.
You can profit from many items that are in really good repair or you have not used in a very lonnnng time! Having a successful yard sale or garage sale in the town of Orangeville takes a little planning.
Here are some great tips to help you out.
Advertising in the local Orangeville newspaper is a good start but don't forget to utilize all the FREE social media networks. Our neighbourhood newspaper has a Facebook page does yours? A day or two before your sale post signs around your neighbourhood. Make them large, easy to read and "follow the arrow" type signs (remember to pick these up after your sale)
Join Forces and organize a street or neighbourhood sale. If you live in an apartment, ask the other residents to take part. The more stuff you have out, the more likely people are to stop.
Place a large, well marked "free pile" right out front. It could be compiled of items that perhaps you we're planning on donating. Most people feel bad just taking a FREE item and are more likely to buy something, or at least take a look around.
You only have a few seconds to make a good first impression. If you place your large items out front you are saying – look at all the great stuff we have – drivers are more likely to stop to take a look.
People do not come to yard or garage sales with hundreds of dollars in their pockets. If you want top dollar for these items then consider posting them on Kijiji or Craigslist and not within your yard sale.
Most people will not ask. If it doesn't have a price tag, they'll just put it down. If you want to sell it, price your items. The extra work is well worth it.
Organization is key. As items are sold move items closer together. Keep it tidy.
You're goal is to get rid of it while making a bit of money. If it is still there at the end of the day you're most likely going to donate it. Price it low, to get rid of it.
If the item has pieces or is a set put it in a clearly labeled bag. Zip Lock bags are great for this. A Great idea for game pieces or small toys and accessories. Use a Sharpie to write right on the bag.
If you have a box or basket of items, label the box or basket with a large price sticker. For example – all stuffed animals 50 cents and all books $1.00.
Ensure that all the items you intend to sell are clean and that you have all the pieces (puzzles & games) – You wouldn't want to buy something dirty or broken, why would anyone else.
Good Luck with your Orangeville Yard and Garage Sales this spring. It can be a lot of work but if you keep it well organized it will be worth your while. Happy Selling!