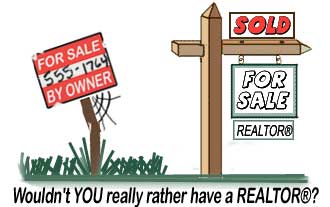 Buying or selling a home is usually one of the biggest financial decisions for individuals.  Making an informed decision, with the help of a qualified professional, just makes good financial sense.  So why would someone attempt to sell their home themselves?  A client called us to list their Orangeville home for sale after he had spent some time on REALTOR.ca with one of those discount sell it yourself brokerages.  I sat down with the couple and we had a very open and honest conversation about their experience using the "for sale by owner" opportunity.  Here were their comments.
There is an upfront cost using a sell it yourself brokerage.  These costs vary significantly depending on the "package" you choose.  Packages vary with the amount of signage, the amount of advertising materials, and the type of support and exposure you are looking for.  So immediately, you are paying for a service out of pocket that may or may not work.  As realtors here in Dufferin, our brokerages only get paid on a successful closing of the sale of your home.  Showings can be a pain.  In many cases, sellers using the sell it yourself system have to coordinate showings and take time off work to be at the home to allow access.  And who the heck are you showing the home to?  These sellers have no idea who the potential buyer is coming knocking on the door.   Realtors will help vet potential buyers and no one will visit your home without a realtor being present.  And there can be other pitfalls when attempting to sell your own home.  Many times people price their home incorrectly, either asking too much for the house which means it won't sell or not asking enough for the home which leaves money on the table.  That's why we feel it's imperative that you hire a professional, full time realtor who sells enough homes in the local marketplace to know an accurate value for your home.  Pre-selling preparation is critical for a home.  That means having a realtor who has access to professional staging, the ability to assist a client in decluttering a home and most importantly hiring a professional photographer.  Sellers have one chance to make a good first impression.  When buyers visit realtor websites or realtor.ca, you want to wow them with pictures of your home.  I have seen realtors here in Orangeville use their iPhone to take pictures and quite frankly, the quality is simply inadequate to sell a home.  You need professional staging and professional photography and quality, a full time realtor will supply this as part of their listing package at their cost.   And lest we forget the legal hurtles that sellers need to navigate.  Sometimes a seller will fail to disclose, or simply hide, a properties faults or imperfections.  This could range from a basement leak, issues with the roof, faulty appliances or less obvious issues with the home.  Or a seller may fail to disclose that a hot water tank or a water softener is a rental item.  This can lead to legal issues post-closing.  A qualified, professional agent will protect you from these pit falls and insure the listing, sale and closing of your home is handled correctly and protects you from these pitfalls.
Several times I have mentioned qualified, professional, full time realtors in this article.  Not all realtors here in Dufferin are created equally.  Remember, it's not just about commission rates.  Ultimately, the bottom line is what a seller is going to net out of the sale of a home.  A realtor's agenda should not be to get paid.  That is self-serving.  Our goal is to insure the ultimate service level for all of our clients, making sure their interests come first and we are protecting sellers and helping them maximize their selling price with minimum stress through the process.  Please keep these facts in mind when you are considering the next sale of your home.  We are here to serve and assist.