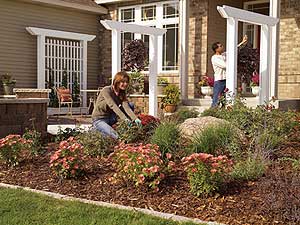 You are thinking of selling your home.  You've cleaned your house from top to bottom and staged every room to entice potential home buyers. While these efforts certainly help you present your home in the best light, other factors play a role in just how quickly your home sells. When you sell your home also impacts how long your house sits on the Orangeville real estate market. Timing your listing right can result in a more efficient sale.
Selling an Orangeville home during the Spring market
The spring market is typically the best time of the year to sell your house for several reasons. First, many families who are relocating from Toronto plan to move during the kids' summer break. As a result, they start house hunting during spring so that they can have their new house ready for a summer move.
Additionally, spring's warmer temperatures entice potential buyers out of the home. Once cold climates such as Orangeville thaw out from the winter, real estate sales tend to increase. Potential buyers no longer have to trek out in the cold and snow to house hunt. With warmer weather, these buyers are more willing to explore the real estate market and attend open houses. As a result, placing your home on the market in the spring can result in a quicker sale.
Selling your Orangeville home and timing it right
Spring begins in late March, but preparing for a spring home listing should begin long before the calendar officially turns to spring. Because sales tend to skyrocket during spring, the inventory of houses will similarly rise. Therefore, you're going to have more competition when you're selling your house during this busy season.
As a result, you want to get a jumpstart on showings and open houses by listing your home before spring is officially underway. Work with your real estate agent during the winter months to prepare for a spring listing. As early as mid- to late February may be a smart time to put your house on the market, which will be several weeks before other spring sales overtake the market. Orangeville homes for sale may increase in March, April, and May, so creating an alluring listing at a competitive price point to kick off the season can entice potential buyers.
Tips for All Seasons
While spring might be the best timeto put your house on the market, life doesn't always work out that way. Perhaps a work relocation takes place in the late summer, or an unexpected opportunity causes you to move in the dead of winter. Listing your home in the summer, fall, or winter does not ruin your chances of selling the home.
In the fall and summer, highlight the natural beauty of your property, showcasing your lush yard and well-cared-for planting areas or decorating the front porch with pumpkins and letting fall's natural colors overtake your backyard. Winter homes that are well decorated for the holidays can be welcoming and appealing to potential buyers.
The Orangeville real estate market will increase as spring's warmer temperatures take over. Preparing your house to go on the market now, not when spring is in full swing, can help you beat the competition and secure a competitive offer quickly. Make the most of the spring season by selling when the market is warming up, just like the temperatures.