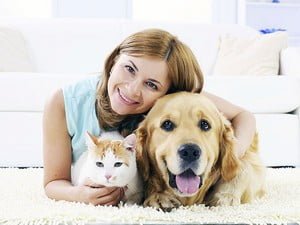 We love our pets like family, but when it comes to selling your Dufferin County home, there are things you need to think about and plan for before you sell. Buyers need to be able to picture themselves in that home and there are Buyers out there who are allergic to, or generally do not like pets. You also need to think about liability. Your pet may be very friendly normally; however having strangers walking through your house may frighten them. Also there is the consideration that your pet may get out of the house while it is being shown.
Keeping these things in mind – here are some tips to help you sell your Dufferin County home with pets:
Repair any damage, including scratches on floors or trim work. Hide any scratch or chew marks on your furniture (you may not be selling the furniture with the house, but you don't want to distract buyers with cat scratched couches either).
Clean your home from top to bottom to eliminate any pet odours and stains. If you allow your pets on the furniture have them steam cleaned. Steam clean carpets, make sure kitty litters are cleaned out, and ask a friend to come over to see if the home smells like your pet. Remember, you are used to the smell – but guests are not.
Clean the yard of all pet waste. Fix any yellow spots on your lawn with grass seed specifically designed for regrowing grass on these spots. Also, if your pet likes to dig, fill in the holes. You want Buyers to focus on picturing themselves enjoying your yard, not stepping over "land mines".
Hide away your pet's beds, toys, blankets etc. You want buyers to notice your house, not that you have a pet.
Remove pets during showings: This is the most important tip of them all. If you work, this could be difficult to achieve. You may need to limit showings to off-work hours in order to make this happen. Even if your dog is crate-trained – he may bark and fuss during showings which will distract Buyers. Many people think its ok to leave a cat during showings; however cats can be distracting as well.
Exotic pets: Most people are afraid of exotic pets such as snakes, tarantulas, geckos etc. even though you keep them an aquarium. Relocate these types of pets to a friend or family member's home until your house sells. You do not want your house to be remembered as "The Creepy Snake House".
Yes, we love our pets just like our family, but when it comes to put your home on the Dufferin County Real Estate Market, planning ahead can make a world difference!