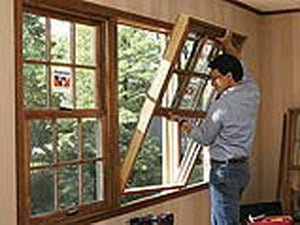 Homeowners in Orangeville Ontario often ask if upgrading windows in their Orangeville home is a good idea. Of course the answer is not that easy and for a number of good reasons.
Saving Energy in Orangeville
With skyrocketing energy costs people are more focused than ever on saving money on energy. Replacing windows that cause drafts with new updated windows will not only save you money on your energy bill, it will also add value to your home. Although the energy savings will be small, over time it does add up. Anyone who tells you that you'll save 30%-40% on your energy bill is not being realistic. 10% is a more realistic percentage, and you need to consider the cost/benefit before replacing your windows.
Types of Windows
The National Fenestration Rating Council developed a standard rating system called U-Factor. This gives you a number that allows you to compare different window types. The number of the U-Factor should be a number from 0-1. Lower numbers mean the better the window will be in colder climes and a number that is around 0.35 is considered acceptable.
If you live in an area where air conditioning is used and it's more important than heating costs the Solar Heat Gain Co-efficient number will be your most important consideration. In this case the SHGC number will be an indication of how much heat is being generated from sunshine coming through your window. It too is a number between 0-1, and this time you're looking for the number to be around 0.4. In colder climates mean you need to look for a number that is near 0.6.
Technological Advances
In today's new technological world, things such as film coating can make a huge difference in how efficient your windows will be. In Orangeville Ontario, where heating is important you'll be looking for low E glass which enables short wave solar radiation to enter your home and increase the heat, as well as preventing any loss of heat. The longer wave heat is reflected back into your home for added benefit.
During the hot summer months in Orangeville, your windows can be tinted or coated in order to reduce the amount of heat from the sun from entering your home. This helps in reducing the cost of running air conditioning all day and night.
Manufacturers are now using argon gas as a better way to insulate in-between the window panes. This results in more energy efficient windows, but it's important to remember that over time the gas will start to disappear.
If you are considering the benefits of replacing your windows then talk to a home inspector or a professional who is impartial, and not to a salesperson who may not have your best interests at heart.