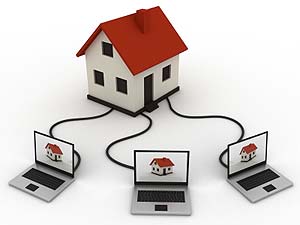 People who are ready to buy a real estate in Orangeville or Shelburne have a lot of different options when it comes to actually looking for a home. Many people now head straight to the internet for their first choice. This gives potential home buyers an idea of what is on the market and at what price. This especially is helpful if you find a fantastic deal and wonder if it's too good to be true. Just a few clicks of your mouse and you will know what houses of that size are going for in these areas.Searching for a new home in the comfort of your current home can be done at any time. However, there are a few things to consider before you decide to purchase a home you have seen online.
The first thing you should do is find out if you qualify for a mortgage, and just how much you will have to spend on a new home. Armed with a pre-approval for a mortgage, you will have a better chance to get the home you want before someone else beats you to it.
When you do start searching online, make sure you look at those houses in your price range. You might enjoy looking at expensive homes in expensive places, but if you can't afford them you are just wasting your time. You can always browse through them when you are finally in your new home.
While it is certainly easy to find houses for sale in Orangeville online, it is not so easy to find a reliable, knowledgeable Orangeville real estate agent who knows our area. If you are searching for homes online, it is a wise thing to choose a real estate agent who knows his way around the internet. You might find names, phone numbers and addresses of many REALTORS® online. Read through them and make sure you bypass any sites where there is no bio listed. Reputable REALTORS® will tell you about themselves and have a good listing of what homes they have available. For some home sales a REALTOR® may be needed; it is better to visit several REALTORS® in your area and choose which one will work best with you.
There are numerous forms that need to be filled out when it comes to home buying. Having a real, live REALTOR® to help you through the legal words and small print will bring you nothing but good dividends. Even if you don't get a REALTOR®, always have a professional mortgage broker or real estate lawyer look over any and all paperwork pertaining to your transaction. Don't rely on the seller's professionals to handle your paperwork; they only look out for their client's best interest. Most professionals are willing to help you with paperwork for a modest fee.
Looking for a home online is an easy task. Buying a home online is not. No matter how many homes in Orangeville and Shelburne you see, or how much paperwork you complete online, you still will have to deal with the final transactions in real life. Use the internet as just one of the many tools needed when you are in the market for a new home.