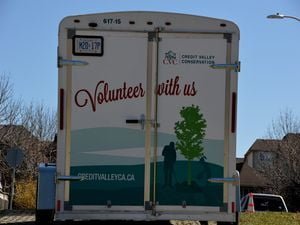 On Saturday, April 23 Wanda and I for the second consecutive year participated in the Credit Valley Conservation Areas tree planting program led by Lindsey Jennings. This year, along with sixty other volunteers, we planted over 450 trees and shrubs at a catch basin located at 114 Oakridge Drive. Lindsey provided a detailed demonstration on the proper technique for planting trees and shrubs. The key to the success rate of the trees and shrubs would be to follow Lindsey's instructions step by step. CVC provided gloves and shovels and then the highly enthusiastic group began the task of planting. I was impressed with the number of children and teenagers who showed up to volunteered and who worked very diligently.
Lindsey and her staff had carefully placed trees and shrubs on Friday so that the volunteers' time was used efficiently. We actually completed our planting within two hours and were rewarded with our choice of barbecued hotdogs or hamburgers prepared by the Orangeville Rotarians.
The CVC selected trees that would thrive in the existing soil conditions. We planted silver maple, cedar, white pine, white spruce, freeman maple and white birch. The shrubs included choke cherry, gray dogwood, red osier dogwood, meadowsweet, ninebark and shiny willow which I'm sure will attract a wide variety of birds and butterflies. As we were planting several Redwing Blackbirds were curious onlookers. We were actually enhancing their habitat.
According to Lindsey Jennings the CVC have been hosting "Earth Day Planting" in Orangeville for the past seven years and in partnership with Let's Make Orangeville Shine since 2014. During that time CVC and the many volunteers have planted over 4200 trees and shrubs. My many friends within the CVC can be very proud of this accomplishment.
[metaslider id=3613]