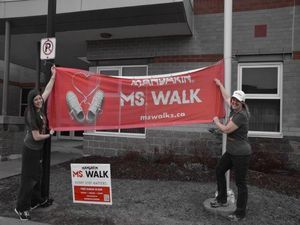 On Sunday, May 1 at 9:00 am I jumped into my Mini Cooper and ventured off to Montgomery Village Public School to take a few pictures of the MS Orangeville Community walk. It was drizzling rain and as I was approaching the school my plan was to stay for about ten minutes and then head home to stay dry. That was my plan but once I returned to my car it was 10:30 am. I had stayed for 90 minutes and this is my story why.
When I entered the school there was Lisa Hogben at the registration desk. Lisa was my running instructor and it amazes me how she generously gives up so much of her time for fundraising events. Raising money for breast cancer is one of her other major causes. She has a radiant smile and is a bundle of energy. Lisa was at least trying to bring sunshine on a rather wet and damp day.
Also at the reception table was Mary McLean, who was one of my first students who now lives just around the corner from us. Wanda and I often cross paths with Mary on the Island Lake trails and we always engage in a lively conversation.
Then I was introduced to James Jackson, who is the Dufferin Caledon MS Ambassador. During our conversation about MS and how it has drastically changed his life and how he has learned to cope with it James mentioned that while attending elementary school his grade seven teacher, Mr. White, had a great influence on his life. I stared at James and reached out to shake his hand to say, "you are now talking with Mr. White". It was one of those "wow" moments.
After the meet and greet I went outside to accomplish my objective of taking photos of the walkers. They range in age from young children to the elderly. The enthusiasm, smiles and cheerful hellos made my morning to be so very special.
The walk was highly organized and although the weather was less than perfect there were over 150 walkers. Wendy Ljmedwid reported that over $30000.00 was raised which would be used to support the local MS Society and for research.
Upon returning to Montgomery Village Public School everyone was rewarded with hot or cold drinks, barbeque sausages and hotdogs plus a wide variety of treats. The fun, excitement and joy to interact with so many great people is why my intent to stay for ten minutes to take photos evolved into a wonderful ninety minute journey.
[metaslider id=3637]