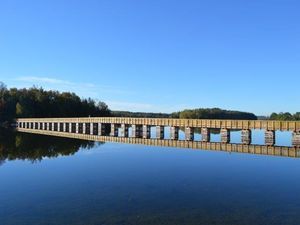 My daily routine includes walking or running and with greater frequency both at Island Lake. Right in our own backyard here in Orangeville, we are so blessed to have a series of over 10k of trail that circumvents Island Lake. The uniqueness of using the trail is that while running, walking or cycling there are so many beautiful views to enjoy. The trail meanders through swamps, pine forests across dams, over hills and over a series of seven bridges that crosses Island Lake at the east and west end.
For the weary walkers there are a series of benches, a pergola, a large gazebo and washroom facilities at the rental shop and Hurontario Street parking lot.
For everyone's convenience there are a series of kiosks with maps to help guide first time users and many dog stations that provide poop and scoop bags.
I do walk the trail with my dog Sydney everyday and sometimes twice a day. Along with my wife Wanda we enjoy the vast variety of flora and fauna that is found in and around the lake. My favourite is watching the muskrats and turtles. I often carry my camera to try to capture the beauty of the trail. The trail is used twelve months of the year by runners, walkers with dogs and/or strollers, and many types of cyclist.
The trail is also growing in popularity for use of races and fundraising walks. With trail markers strategically placed throughout the trail system the CVC was able to determine that over 150 000 people used the trail in 2015.
By the way I was the one who reported to be approached by an overly aggressive coyote while running with my dog Sydney on the trail but that's another story for another day. Orangeville is a great place to run! Happy trails everyone!
[metaslider id=3663]