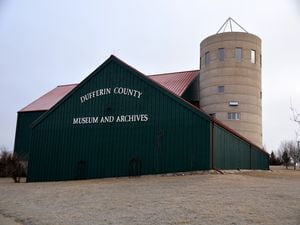 Dufferin County Museum is nestled in the hills of Mulmur and is one of Dufferin County's prized possessions. Designed in the style of an Ontario bank barn this facility is located at the intersection of Highway 89 and Airport Road.
The museum boosts about having ever changing exhibits, wide variety of programs and special events. March Break, for example, offers a different program everyday geared toward children of all ages.
Inside the museum is a wealth of artifacts including photos of Dufferin's historical past. There is a pioneer home with attention to historical details inside and out. There is also an Orange Lodge building and CPR station which allows your imagination to take a step back into time. The CPR station is of great significance because of the vital role the railway played in the urbanization of Dufferin County.
I had the privilege of viewing the storage room containing hundreds of antiques that have been donated over the years. The storage room provided sufficient evidence that the museum has the capability of constantly changing their exhibits.
The Dufferin County Museum is a must destination point for those wishing to learn more about the growth and development of Dufferin County. For those of you with a young family be sure to check out the Dufferin County Website for programs and events that your children will find to be interesting and entertaining.