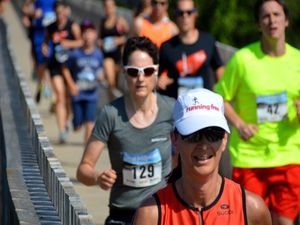 The Orangeville Lions Club held their inaugural Seven Bridges Run on Saturday, May 28th at Island Lake Conservation Area. This event featured a 5K and 10K race that started and ended at the Orangeville Agricultural Centre.
This highly successful event attracted 371 participants ranging in age categories from under 14 to over 60. The weather was extremely hot and humid which the runners found to be rather challenging conditions.
Each runner received a beautiful Seven Bridges medal which featured one of Bob's Bridges. Prizes were awarded for first, second and third place finishers in seven age categories. Special awards were presented to the fastest 5k male and female, fastest 10K male and female and to the fastest male and female "Masters" for both races.
The Lions provided a vast array of food and drinks for the racers and the Agricultural Centre provided relief from the sun and heat. All members of the Lions Club volunteered for the run in some capacity along with family members. Special mention goes to Jodi and Norm of Running Free for their advice and support to ensure the success of this first time endeavor by the Lions.
Island Lake Conservation Area continues to be a destination point for many local fundraising events. Future blogs will cover these worthwhile projects that are fun for the participants and beneficial for the local community.
Up next is the Orangeville Blues and Jazz Festival. I always look forward to walking down Broadway on Friday night while taking in the many bands and viewing the excellent collection of antique vehicles. My camera is going to get a good work out this weekend!
[metaslider id=778]