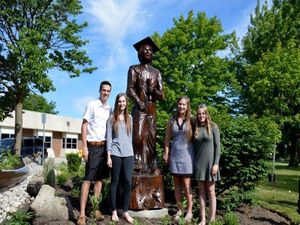 As a former president of student council at Orangeville District Secondary School,  I was very impressed with the concept of having a graduate tree carving honoring past, present and future graduates. Since my days at ODSS student council has evolved into Student Senate. Molly Mullin was the inspirational leader in making the "Graduate" tree sculpture a reality. I was so impressed with her enthusiasm that I asked my fellow Lions to contribute and I made a personal donation. The Orangeville Lions approved a donation of $1000.00 toward the sculpture.
The garden project which included the tree carving was a community effort. Councilor Sylvia Bradley coordinated the efforts of Communities in Bloom, Horticultural Society, Credit Valley Conservation Area, Upper Grand District School Board, ODSS Student Senate, Town of Orangeville Staff and Dufferin Garden Centre.
The garden is very impressive with a wide selection on native plants that will provide continuous bloom. The CVC provided a canoe which contains plants that attract bees and butterflies. There is a bench on the edge of the garden and of course the centre piece is the graduate tree carving.
Sylvia Bradley would love to see other local businesses and schools include a canoe into future landscaping designs with the intent of the canoes containing native plants that attract bees and butterflies.
[metaslider id=1264]