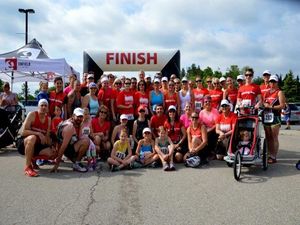 On Saturday, June 4th the Compass Church held its annual run and walk 5k /10 k for food. This highly successful event attracted over 600 participants who had the option of either a 5K or 10K course along the beautiful Island Lake trail system.
Jodi McNeill and Norman Nadon the owners of Running Free in Orangeville had their very large group of "Start to Run" members in attendance for their inaugural race. I'm mentioning the start to run program because I'm a former member of this group and thanks to Jodi and Norm I'm an active runner which has changed my life. It was great to see their team of instructors who also participated in the race and many of them were podium finishers.
I was impressed with the number of young children who turned out for the kids run. I was also equally impressed by the number of school age children who participated in either the 5K or 10K race.
The Compass Church certainly provided a highly entertaining atmosphere with a large number of vendors, lots of food and drink options and the race/walk concluded with medals and recognition of the top three racers in a host of age categories.
The weather was great with the threat of rain in the forecast but thankfully the day was cloudy and rather warm for racing.
The benefactors of the race/walk were the food bank in Shelburne, food bank in Orangeville and the Lighthouse Kitchen in Orangeville.
Be sure to consider the annual Island Lake Classic which is being held in early September. Chase the Coyote is a very popular race that has many course options. This event is also held in September with details available at Running Free in Orangeville.
[metaslider id=1288]