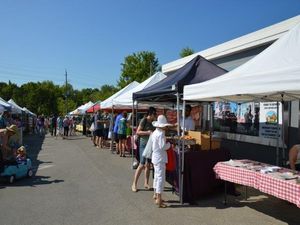 A very popular destination on Saturday mornings is the Orangeville Farmers' Market. Many of the vendors offer a wide selection of imported and local produce which changes as the summer advances. Local strawberries were plentiful at last week's Market. At some point there will be an abundance of local corn and then in early to late fall vendors will be offering a variety of apples.
My favorite is the vendors who are offering fresh bread, tarts, pies, jams and goat cheeses. I can't possibly walk through the market without purchasing one or more freshly cooked meat pies and at least a dozen butter tarts. Then I scout out the many vendors offering produce.
Other items to look out for are flowers, plants, honey, spices, meats, mushrooms, plus hot and cold beverages. Of course there are many more items being offered but it is up to you to venture out to the Farmers Market to discover it on your own.
The Market offers entertainment. During my visit for my weekly blog David Nairn along with members of Theatre Orangeville were there to sing and to meet and greet. There are booths for not for profit organizations. I have participated in the Market on numerous occasions representing the Friends of Island Lake. The Market does attract large crowds so for local groups it does provide an excellent opportunity to promote events.
Rain or shine the Orangeville Farmers Market goes on until late fall. The location has been temporally moved to the south side of Broadway due to the construction surrounding the Town Hall. After checking out the Market then why not walk along Broadway and Mill Street to see what the local businesses have to offer. I dare you to walk past The Chocolate Shop without purchasing a little treat for yourself!
[metaslider id=1308]