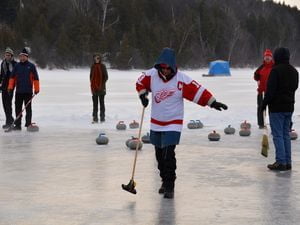 In the true tradition of curling the Orangeville Curling Club held its 7th annual Pond Spiel at Island Lake on Saturday, January 30. Curling was invented in Scotland sometime in the 1500's and played on frozen ponds and lakes. By hosting a pond spiel our local curling club provides curling enthusiasts an opportunity to play the game according to its roots outside. This unique experience draws participants, no pun intended, from far and wide.
The wind was howling but spirits were high by the many participants. I'm sure the strenuous task of sweeping actually provided the much needed warmth on this windy day.This sold out event was actually fun to watch although my dog, Sydney, didn't enjoy the sound of the rocks crashing into each other and she was very vocal about her displeasure.
The wide variety of team costumes certainly enhanced this annual event. With a back drop of fishing huts and the west link bridges there was a lot to take in for the spectators. Hot chocolate was a warm welcome to the participants and spectators alike.
After taking several photos Wanda, Sydney and I "hurried hard" to get back to the warmth of our car. Kudos to the Orangeville Curling Club for thinking outside of the box!
Wayne White