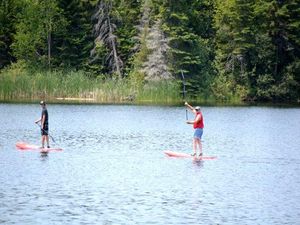 Wanda and I just recently took our two granddaughters canoeing at Island Lake and they just loved the experience and the water activities. The cost of renting a canoe is $20 for one hour or $50 for the entire day. We opted for the one hour rental which was more than sufficient for entertaining a seven and six year old who both attempt paddling.
While canoeing, Nahla and Maliah were able to get close to Canada Geese, snapping turtles, water lilies, and schools of fish. They even spotted an old pickup truck located just east of the Rotary Club gazebo that once belonged to the Murphy family. Island Lake provides a perfect opportunity to attempt canoeing on a relatively safe lake. If there are red flags posted then the lake is unsafe for boating so check with the staff at the gatehouse before venturing out onto the lake.
We have taken our granddaughters kayaking on several occasions. We store our two kayaks at the rental shop. When Wanda and I go kayaking it usually takes one hour to go beyond Bob's Bridges and back to the storage facility. We have even attempted kayaking on red flag days which we found to be very challenging so our preference is to go out on very calm days. Kayak and paddleboard rentals are $20 an hour or $50 for a day.
Fishing is also available for children. There are four fishing piers for children to fish from shore or you can rent a boat with an electric motor for $60 for a half day or $90 for an entire day. The rental shop sells live bait and there is a wide variety of snacks and drinks which I believe is one of my granddaughters favourite places to visit especially when they know grandpa will buy them treats.
Admission to the park is $5.09 for adults, children 6-14 is $2.88 and seniors have a discounted price of only $3.98
[metaslider id=1329]