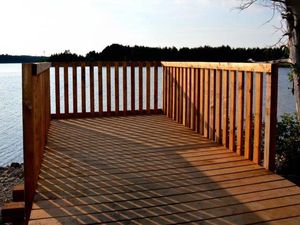 Bill Lidster, Credit Valley Conservation Area's Operations Manager, North Zone, set a goal to have ten fishing piers at Island Lake Conservation Area with three being designated for people with accessibility requirements.
According to Bill Lidster CVC staff will also be creating rock piles out from the fishing piers to help establish fish habitat for people to see fish spawning. Lidster also mentioned that the piers will also reduce the negative impact on the shoreline and reduce unsanctioned trails to the water's edge.
To date there have been six fishing piers installed thanks to Dufferin Northern Peel Anglers and Hunters Association, Federation of Anglers and Hunters Zone H, Friends of Island Lake in partnership with the Halton/Peel Woodlands and Wildlife Stewardship Council and just recently Sunshine Landscape and Design, Brookfield Homes and the very last pier that was just constructed was donated by Mike and Sheila Mullin.
Bill Lidster is presently seeking sponsors for the final four piers. The cost of sponsorship is $3000.00. This includes a standardized sign with the name of the individual or group plus I will take photos to post on the Friends of Island Lake facebook page. You can contact Bill at 416 896 7368 or email him at [email protected].
Some of the largest fish caught for the Friends of Island Lake's annual bass derby were caught from shore. The piers do provide an excellent venue for fishing. The piers are essential for Island Lake Conservation area because fishing from the trail bridges is prohibited due to safety reasons. The piers have also been used for bird watching, photography and for rest stations.
For the next two weeks my blog will feature the Junior B Lacrosse Founders Cup which is being held for the first time in Orangeville. Our Jr B lacrosse team is the Ontario Champion going into this tournament.
[metaslider id=1418]