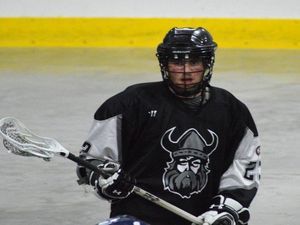 The convenient Founders' Cup is being hosted by the Orangeville Jr B Northmen from Tuesday, August 16 to Sunday, August 21. This tournament was first originated in 1964. Orangeville won the Founders' Cup in 1989 and 1990.
This is the first time Orangeville has hosted this championship tournament. A lot of credit goes to the planning committee and the numerous local sponsors which includes local businesses and service clubs. The tremendous support by the local community was evident at the Monday night banquet with members of the Orangeville Lions Club preparing and serving food. The Orangeville Rotary Club helped with set up and cleanup. The numerous McMaster Pontiac Buick shuttle vehicles were very noticeable at the Adler Street Arena. These are just a few examples of the support and generosity being displayed by the local community.
This year's tournament features Calgary Chill, Team Nova Scotia, Saskatchewan Swat, Green Gaels, Manitoba Blizzard, Seneca War Chiefs, Coquitllam Adanacs and the Orangeville Northmen.
Orangeville is entering this tournament as the Ontario Champions after a very tough battle with the Green Gaels. If they can stay injury free should be in contention to win the tournament.
Games begin at 11:00 am, 2:00 pm, 5:00 pm and 8:00 pm from Tuesday to Saturday. The finals are being played on Sunday with starting times at 11:00am Tier ll Championship Game, 2:00pm Bronze Medal Game, and 5:00pm for the Gold and Silver medals. Be sure to listen to myFM 101.5 for updates.
[metaslider id=1438]