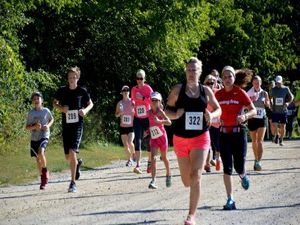 Run Dufferin under the leadership of Bob Collin and Margery Cruise hosted their annual Island Lake 5k and 10k race at Island Lake on Monday, September 5.
The day featured a "free" children's run sponsored by the Grime Team which started at 9:30. Over 50 children got to experience the thrill of running and all participates were awarded with a ribbon and snacks. Many of the proud parents are active runners who were obviously encouraging their children to become involved in this sport.
A major change this year was the course design for the 5K race which Bob Collin decided to incorporate the trails in and around the sugar bush. Many avid runners enjoy the thrill of running along trails as appose to road races so the numbers were up from previous years.
The 10K race followed the trail that circumvents Island Lake which includes some challenging hills. The Orangeville Rotary Club and Running Free were providing water stations along both the 5K and 10K routes.
After the race Orangeville Sobeys' provided hotdogs, hamburgers, veggie burgers and cold drinks. The event concluded with the presentation of first, second and third place prizes for various age categories for male and female runners.
The event couldn't be made possible without the cooperation of the CVC staff and many volunteers. There were ten Friends of Island Lake helping out. I was there as a FOIL member and was assigned to be a marshal and event photographer.
As past chair of FOIL I would like to thank Bob and Margery for hosting this annual event which benefits Island Lake. Part of the proceeds will be going towards trail improvements.
[metaslider id=1526]