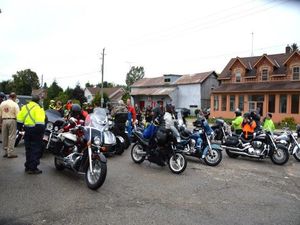 On a very wet Saturday morning I drove out to Marsville which is a tiny hamlet located on what is commonly referred to as the Orangeville/Fergus road. In the past I made this trip many times because I taught at East Garafraxa Central Public School for twelve very enjoyable years. On this particular morning I was invited out to the Marsville Community Centre by Neil Hoogendoorn to take pictures of the 7th Annual Freedom Ride to end MS.
When I arrived at 10:00 am Neil Hoogendoorn along with his wife Elly, granddaughter Adele and fellow Lion Dan Fraser were busy preparing pancakes and hot coffee for the expected arrival of several hungry motorcyclists. I waited outside to capture photos of them arriving. I could easily hear the roar of their engines as they were approaching the community centre. Upon their arrival they quickly removed their wet apparel and got in line for a heaping plateful of pancakes.
This fundraising event was being hosted by the Grand River Chapter of the MS Society. The poker run included many stops over a 191 k route. Donna Smith Host, Community Outreach Coordinator, pointed out to me that funds are badly needed for MS research. Canada has the highest rate of MS in the world. Three out of four Canadians with MS are females. Another unfortunate statistic is that over 80 of people with MS are unable to work.
I personally want to thank the Marsville Lions for playing a small yet important role in making the MS Freedom Ride a successful event. The Marsville Lions may be small in numbers but they are large in heart!
[metaslider id=1548]