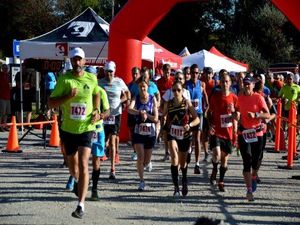 I'm writing about this race in absenteeism because I am presently touring Poland so the photos in my blog are from last year's event. The 5th annual Chase the Coyote was held on Saturday, September 24 at Mono Cliffs Provincial Park. Chase the Coyote is known for its challenging courses according to Jodi McNeill and her partner Norm Nadon who are the owners of Running Free in Orangeville. There is a 21.4 k and a 14.4 k course that requires runners to navigate over roots and the occasional rocks plus runners need to cope with long hill climbs. The race concludes with a fast downhill run to the finish line. Trail runners are attracted to the many challenges that they encounter while racing. My personal preference at age 62 is flat courses so that is why I'm behind a camera on race day and not in front of one.
There is also a 5.7 k course for those who still want to experience the excitement of trail running but prefer to keep their experience restricted to a much shorter distance.
I was stationed at the finishing line as one of the many event photographers and I was amazed how some of the trail runners were covered in mud from tripping on the course because of the challenges of trying not to trip over the many natural hazards. Still the majority of the runners crossed the finished line with smiles on their faces or expressions of sheer exhaustion.
Team Running Free members were highly visible throughout the day either volunteering at the registration desk or acting as trail marshals plus many of them ran in their highly recognizable red outfits. Jodi and Norm have managed to solicit the support of 60 volunteers.
Every racer was rewarded with a very unique medallion. Plus there was plenty of food and cold beverages being supplied by Sobeys/Foodland. Saucony, which happens to be my favorite brand of shoe, was the major sponsor.
Chase the Coyote also has an additional race feature titled "Beat the Challenge" which is a special award for any male who can run the 14.4 k course under 60 minutes or female who can run it under 70 minutes. Last year five awesome ladies did "Beat the Challenge".
Jodi is very proud that a portion of the proceeds go to Rainforest Reading which promotes literacy in the Caribbean. Jodi and Norm encourage everyone to check out Chase the Coyote Website for race results and photos. Mono is truly a great place to run!
I'm truly sorry that I missed this exciting event but I will make sure that I will be there in 2017 with my camera in hand.
[metaslider id=1592]