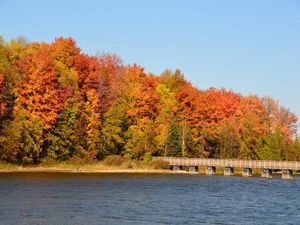 What is becoming a growing family tradition during Thanksgiving weekend is a walk along the Island Lake community trails in Orangeville. With trail counters strategically located on the trail system the CVC were able to determine that over 1600 people walked the trails on Thanksgiving weekend in 2015.
My photos captured the beautiful colours from walking the trail on previous Thanksgiving weekends. The water level is indeed low and a popular topic for discussion when I visit the local coffee shops but that shouldn't factor in as a deterrent for enjoying the fall colours while walking the trails.
The best photo opportunities are along Bob's Bridge. If you enjoy a long walk then begin at Home Hardware or the parking lot located on the Hockley Road which is located across from Mono Amaranth Public School. If you want a shorter hike then drive to Hurontario Street parking lot which is located west of the Orangeville Agricultural Centre and just east of the gravel pit. Of course entering the Island Lake Conservation Area and using any one of their many parking spaces is an excellent option. I just might meet you on the trail along with my wife Wanda and our goldendoodle Sydney.
Driving along the Hockley Road and then stopping at the local stores and restaurants in the Hockley Village is also a fan favourite for out of town visitors and locals as well.
On behalf of the Mullin Group I truly hope you have a safe and very enjoyable Thanksgiving weekend.
[metaslider id=1614]